Yesterday, the Ingalls Shipbuilding division of Huntington Ingalls Industries (NYSE:HII) delivered the LHA 6 (amphibious assault ship America) to the US Navy.
The ship was received on a specially held ceremony at the flight deck of the vessel. The President of Ingalls Shipbuilding, Brian Cuccias, said the shipbuilders had worked tirelessly to built and deliver the "powerful and awesome" warship.
"This took more than just doing a job. This took dedication and working to a greater purpose, knowing that our family, friends and fellow Americans could serve on this great ship—the highest quality LHA ever produced by Ingalls," added Brian Cuccias.
USS America was laid down on 17 July, 2014. The ship was christened in October 2012 by Lynne Pace. The motto of USS America is "Bello vel pace paratus" (Ready for War or Peace). The program cost was $6.8 billion and the unit cost - $3.4 billion. USS America has displacement of 44,971 long tons and length of 257.3 m (844 feet). The propulsion of the warship comprises two shafts, two marine gas turbines and two auxiliary propulsion motors. The ship can sail with speed of over 20 knots.
USS America is the fourth U.S. Navy ship with this name and the first America-class amphibious assault ship. She will replace the Tarawa -class warship LHA-5, USS Peleliu.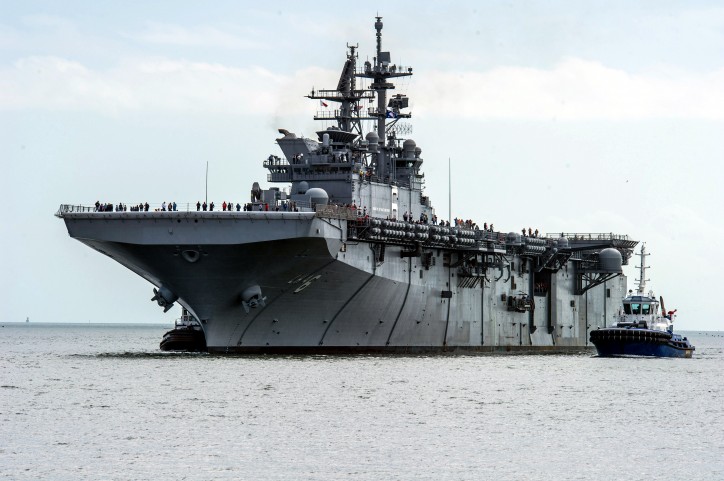 U.S. Rep. Steven Palazzo wrote a congratulatory letter saying:
"She brings to the fleet awesome amphibious and humanitarian capabilities. She is lethal, and she is survivable, able to withstand some of the toughest blows our future enemies may have to offer. That capability and survivability were built into this great ship by America's shipbuilders—the men and women of Ingalls Shipbuilding. The best warships the world has ever seen are built right here in South Mississippi."
USS America will serve as the flagship of an Expeditionary Strike Group. The ship will have a crew of 1,059 (65 officers) and 1,687 troops. USS America has an increased aviation capacity and can carry a Marine Expeditionary Unit (including F‐35B Joint Strike Fighter aircraft, Marine helicopters and MV‐22 Osprey tiltrotor aircraft).
USS America compared to USS Nimitz: