"Arms of Innovation" technology of Shell has been tested for the first time. Its project Prelude FLNG (floating liquefied natural gas) is being built in Geoje, South Korea, at the Samsung Heavy Industries shipyard. The latest Shell project develops technologies for the gas and oil industry and reinforces the leadership of the company in the innovations' field.
Shell has sent its LNG CSU Superintendent, Chris Moreno, to supervise the test of the innovative offloading arms of Prelude. The project has to be able to transfer its liquid cargo in one of the loneliest places on earth - 200 km off the northwest coast of Australia.
Prelude FLNG was announced on May 20, 2011. The design and develop of the project took over 1.6 million hours. The first steel cut of the innovative project was done in September 2011, the building of its turret started in May 2012 (in Dubai), the first cut of the project's substructure was in October 2012 (in Australia) and the start of the topsides was in January 2013.
Once complete, Prelude will be the largest ever floating facility. It will overtake Maersk Mc-Kinney Moller (length 400 m) with its length of 488 meters. Prelude FNLG will weight 600,000 tonnes. Once in service, Prelude will produce at least 5.3 million tonnes of liquids per year.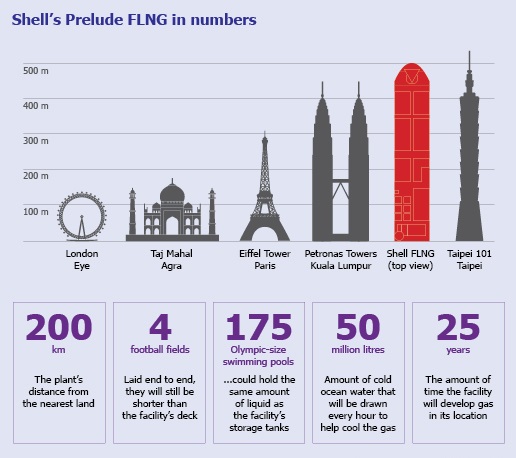 The Prelude FLNG project was joined by INPEX Corporation (17.5 per cent), Korea Gas Corporation (10 per cent) and OPIC (5 per cent).
Watch the video explaining "Arms of Innovation" technology:
Related news:
VIDEO - The World's Largest Mega-Ship Prelude floated out of the dry dock