A passenger ferry vessel with 477 people onboard sank off the South Korean island Jeju, Jeola Province on April 15, 2014.

There were 14 teachers and 324 students from Danwon High School in Asan, Gyeonggi Province, all being on a school trip to Jejudo Island.

According to prior information 2 people were reported dead (1 male and 1 female). The body of the dead woman was identified as the 22-year-old staff worker for the ferry company Park Ji-young. The other found victim was a male student from the Danwon High School.

By 1:10 pm. the South Korean Ministry of Security and Public Administration announced 368 people from the sunken ferry had been rescued. Over 100 others remain missing, for whom the authorities consider the chance of being trapped inside the ferry.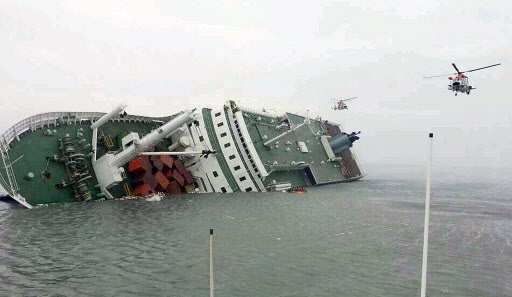 All the 368 rescued people have already been transported to a nearby island and provided medical assistance.
Sewol, a 6,325-ton passenger ferry departed from Incheon en route to Jejudo Island when sent a distress call. Chonghaejin Marine Co., the company owner of the ferry, reported the vessel was regularly making 30-minute trips from Incheon to Jeju island.

Team of rescue professionals from the Coast Guard arrived at the scene of the accident at 9:30 am., which is half an hour after the distress call was sent.

One of the rescued passengers of the sunken ferry suggested the accident may have been caused by hitting a reef due to thick fog in the area. In contrast with the passenger's statement, the meteorological office department stated the area was clear and the visibility was of about 11 nautical miles. The temperature of the sea water was cold at 12.6 degrees Celsius.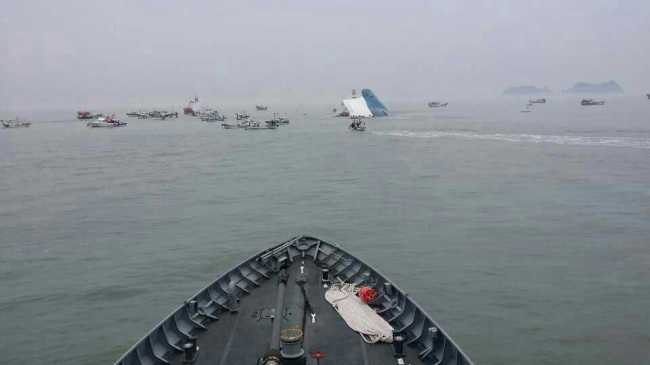 After an onboard announcement for the complete sinking of the ship, the passengers began jumping off the vessel.

The South Korean president, Park Geun-hye ordered the authorities to concentrate on the rescue efforts for the sinking ferry ship.

"Efforts should be made to prevent even one casualty, and a thorough search (of the ship) must be carried out to ensure nobody is left behind," Park was quoted as saying by a government official.

A transport aircraft and helicopters were dispatched by the Air Force on the place of the accident, while the South Korean army sent 10 helicopters.

The Navy dispatched 22 ships along with 2 helicopters and special operations units to assist in the search and rescue operation for the missing people.