On April 15, MSC Charleston, a container vessel, and Petite, an offshore support vessel, collided off the Virginia coast. The incident happened in a shipping channel in the Chesapeake Bay at about 7:30 PM (23:30 GMT). According to the US Coast Guard, the collision happened due to bad weather which also caused a bulk carrier to run aground and dozen other vessels to drag anchor. There was no information about injuries, pollution or damage to either of the collided vessels. The US Coast Guard said MSC Charleston and Petite were anchored pending for an investigation of the incident.
The winds in the area of Cape Henry were blowing with speed of 113 kph (70 mph). Yesterday evening, the total number of 12 vessels anchored in the Lynnhaven vicinity and Ornak, a bulk carrier, run aground.
The US Coast Guard dispatched tug boats along with boats from the Virginia Pilot office to assist in stabilizing the wayward ships.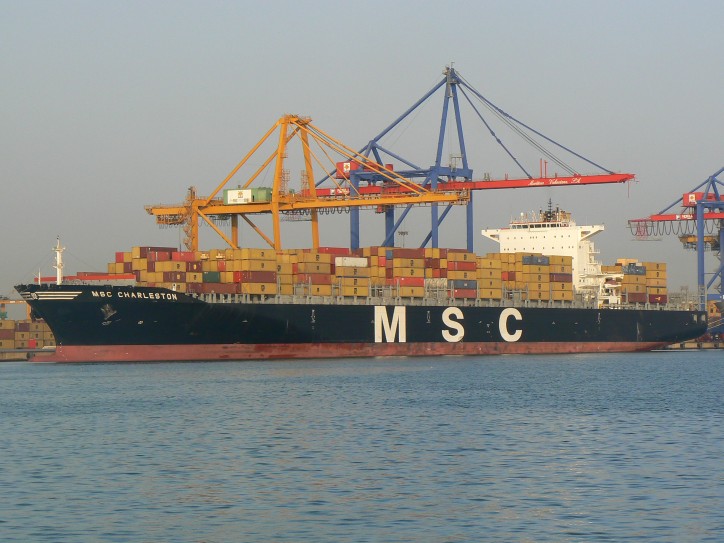 MSC Charleston (IMO number 9299537 and MMSI 636091070) is a 105,014-ton container ship registered in Liberia. It was built in 2006 and its length is 325 m. Current position of MSC Charleston.
Petite (MMSI 366874110) is an offshore support vessel built in 1983 and registered in the United States. Current position of Petite.
Ornak (IMO number 9452610 and MMSI 311040900) is a 79,677-ton bulk carrier registered in the Bahamas. The 228-meter vessel was built in 2010. Current position of Ornak.