The U.S. Navy reported that a fire erupted on board USS Hue City late Monday. The incident happened while the navy ship was transiting the Atlantic Ocean after it had departed Mayport on Friday. According to a Navy statement, there were no injuries and currently the vessel is operating on its own power. The Navy added that the cause of the fire is being investigated and the damage's extend is under assessment.
The fire broke out 200 miles northeast of Bermuda while USS Hue City was sailing to deploy to the U.S. Navy's Sixth Fleet area of responsibility (includes waters near Africa and Europe). Col. Steve Warren, Pentagon spokesman, said on Tuesday that the fire had started in gas turbine generator number one. That forced the crew to go to the general quarters. After that, the fire spread through stack one and stack three continuing to the decks one and three creating multiple fires. According to Col. Steve Warren no one was injured during the extinguishing operations.
USS Hue City is sailing, but the U.S. Navy is yet to decide if the vessel needs to return back to Mayport. Lt. Cmdr. Reann Mommsen said:
"We actually have an assessment team that was flown on board and they're trying to evaluate how much damage there was. Once we know that, then we can take the next step and figure out whether we bring them back or continue deployment."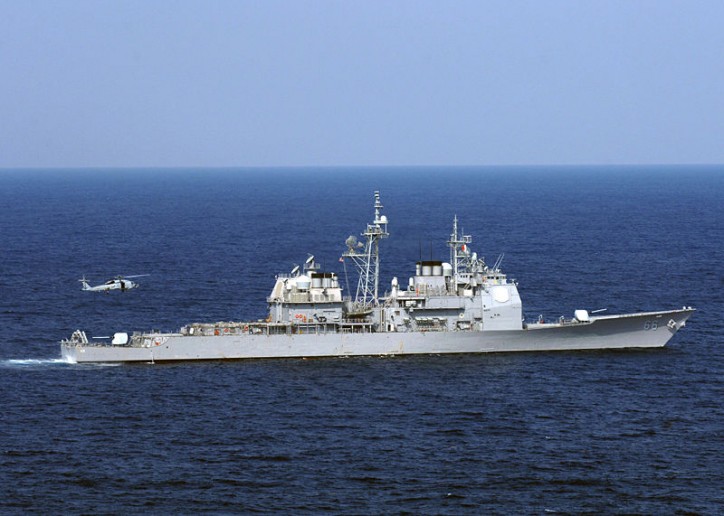 USS Hue City (MMSI 338835000) or CG-66 is a guided-missile cruiser from the Ticonderoga class. The 1991-commission ship has a crew of about 300 sailors and is the only US Navy vessel named for a Vietnam War battle.