USS Taylor, FFG 50, has been sent to Eastern Europe. The frigate has entered the Black Sea following Pentagon plans to dispatch 600 troops to Latvia, Lithuania, Estonia and Poland for military exercises. According to the U.S. Navy, USS Taylor has been sent to promote peace and stability in Eastern Europe. In a statement released on Tuesday was said:
"The US Navy routinely operates ships in the Black Sea consistent with the Montreux Convention and International Law. Taylor's mission is to reassure NATO allies of the US Navy's commitment to strengthen and improve interoperability while working toward mutual goals in the region."
Sergey Lavrov, Russian Foreign Minister, has said that the U.S. Navy has been violating the Montreux Convention according which, the limit for each US ship operating in the Black Sea is set to 21 days.
In February, USS Taylor was dispatched to the Black Sea but it ran aground causing damages to its propeller assembly. This exceeded the stay of the warship by 11 days and tensions spiked between Russia and the United States.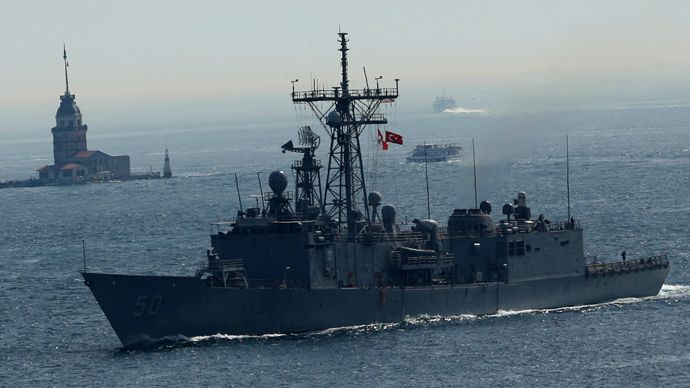 Dupleix, a French frigate, is expected in the Black Sea on 26- 27 April. Once the frigate arrives, there will be three NATO ships deployed in the Black Sea. Dupuy de Lome, a French surveillance vessel currently in the Black Sea, is expected to leave at the end of the month.
The troops are to be sent to assist the NATO allies which are concerned over the accession of Crimea to Russia.
Rear Adm. John Kirby, Pentagon press secretary, said:
"I'm told they're infantry level – infantry training exercises."
He did not provide any specifics but pointed out that the bilateral exercises were an addition to the standard one. He added:
"The United States takes seriously our obligations under Article 5 of the NATO alliance, even though these aren't NATO exercises. It's a very tangible representation of our commitment to our security obligations in Europe."
The U.S. troops will rotate in and out of Latvia, Lithuania, Estonia and Poland to reassure NATO allied sites, as announced last week by Chuck Hagel, US Defense Secretary.