Bad weather halted the search operations for today leaving the confirmed victims of the South Korea ferry disaster 188, 114 are still missing. Over the weekend only one body was retrieved because of the adverse weather conditions. The search efforts were being suspended by heavy rain, strong winds (13 m per second) and high waves (up to 2 meters). Small boats in the area were prompted to leave the scene due to strong sea currents.
An officer form the Coast Guard said:
"Some 92 divers are ready to resume the job, but operations underwater are not possible as of now. The tide is forecast to be calm for about two hours later in the day. During that time, the workers will focus on searching the fourth floor of the five-story vessel."
Till the moment, divers have searched 35 out of all 111 sections of the sunken Sewol. The attempts to reach the other departments have been hampered by the loads inside. The divers suggested using small explosives to open the doors but some relatives of the missing passengers were against the plan. Government officials said:
"Though we've been prepared to salvage the capsized boat, we've yet to decide whether and when to pull up the hull."
"After wrapping up search operations, we will devise a detailed plan for salvage in discussions with the families," they added.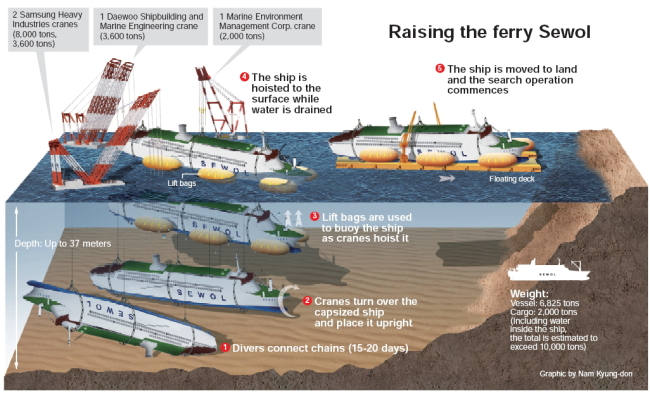 Offshore patrols have been dispatched to the scene to prevent bodies from possible sweeping away by the strong currents. According to the government, at least 45 bodies were recovered outside Sewol.
"Apart from the ongoing efforts including casting nets surrounding the site and operations by trawlers, we are considering diverse measures to prevent bodies from being lost," they said.
The officials have already asked China and Japan for cooperation.
Meanwhile, the Prime Minister of South Korea, Chung Hong-won, has announced his resignation. He said he resigned taking responsibility for the slow initial reaction on the disaster. He made his announcement on a press conference on Sunday saying:
"During the search process, the government took inadequate measures and disappointed the public."
He also added:
"I should take responsibility for everything as the prime minister, but the government can assume no more. So I will resign as prime minister."
That did not impress any relative of the dead and missing. Ji Hyung-Soo, father of a missing passenger, commented:
"So what? My son is there in the sea. His resignation will never ease my bitterness and sadness. Anybody responsible for this disaster must be punished severely, but the most urgent thing to do now is to recover the bodies as soon as possible. I'm not interested in anything else."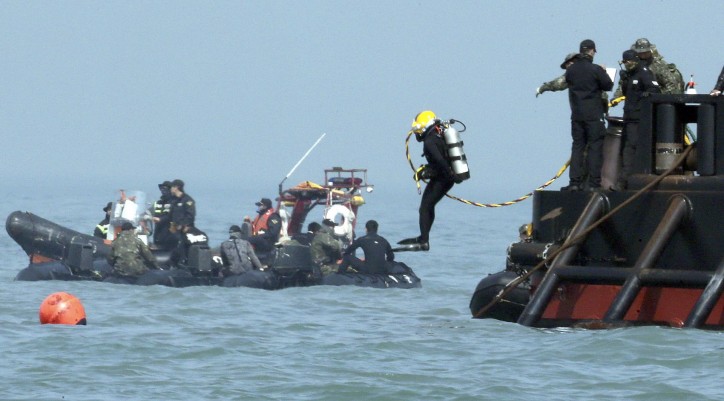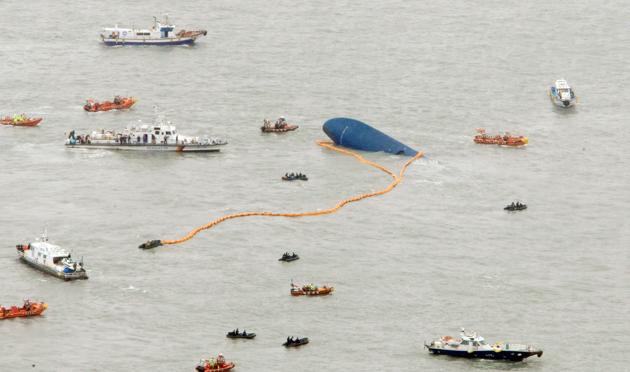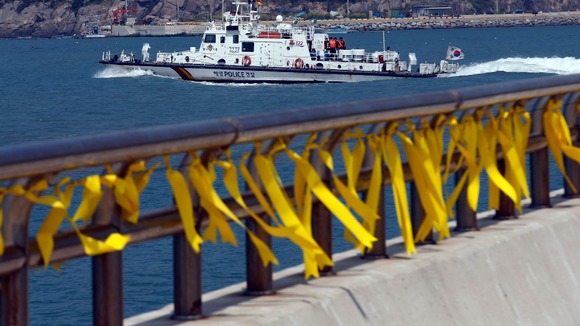 Related news:
185 confirmed victims, safety concerns about sister ship
171 confirmed victims, prosecutors search owner offices
Sunken ferry Sewol Update: 152 confirmed dead, 150 remain missing
Dead toll rises to 108, 194 remain missing
Sunken ferry Sewol Update: 9 dead, 287 missing, 179 rescued
At least 300 missing, shows revised count after Sewol sank off South Korea
VIDEO: 368 rescued after ferry with 477 people onboard sinks off Jeju island