S13, the first out of 19 sponsons, arrived in Giglio Island in the weekend. The sponsons will be used to refloat the Costa Concordia.
S13 is 810-ton with height of 11.5 m and weight of 33.5 m. It features electrical-pneumatic system with strand jacks (height over 20 m and depth of 10.5 m). The system will provide sufficient buoyancy to lift Concordia wreck, until it is only partially under the water, by gradually emptying the water from the sponson.
S13 is the first out of 14 to be position on the starboard side of the cruise ship. The rest of the sponsons will be installed on the vessel's port side. In September 2013, it was initially brought upright.
The sponsons will be installed by Conquest MB1, a crane barge. It is fitted with proficient rotating/luffing crane and has automated heel/trim compensation system. Its design features a six point mooring system and modules for accommodating 60 persons. Conquest MB1 can support diving operations. The crane barge had arrived earlier in the week.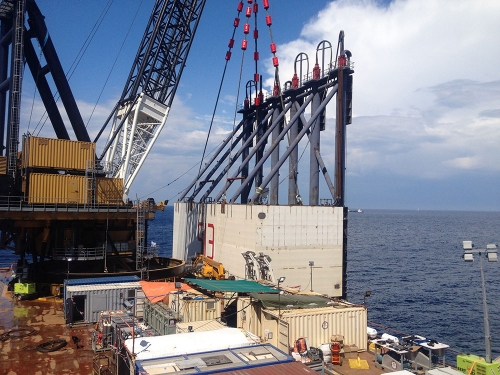 Currently, Costa Concordia is sitting in about 30 m of water. At the end of the salvage operation, when all sponsons will have been emptied, she will be raised to 18 m.
Titan Salvage and Micoperi, an Italian marine contractor, require the wreck to be removed in one piece. They are not sure about the exact timetable of the process but they hope the operation will be finished by the summer.
Related news:
Costa Concordia - caissons on the way to the wreck