MT Nur Eye 1, a chemical tanker, has caught fire on board some two nautical miles off Northport in Port Klang. The incident happened yesterday at around 1 pm local time. The crew of 11 sailors were unharmed and rescued by marine policemen. The fire destroyed 25 per cent of the vessel. MT Nur Eye 1 was loaded with some 200 thousand litres of marine fuel.
The chief of Klang Malaysia Maritime Enforcement Agency (ММЕА), Captain Christopher Ravindran Dass, said that the incident happened while the 491-ton MT Nur Eye 1 was docking at the port.
"The 11 crew members and contractors were rescued and taken to shore by the marine police," he added.
According to Deputy Superintendent Norzaid Muhammad Said, Port Klang marine police commanding officer, the engine room, the stern and the open bridge of the vessel were destroyed by the fire. The blaze was brought under control by the Fire&Rescue department and the marine police after four hours,. but before reaching the cargo. The operations director with Selangor Fire & Rescue department, Mohd Sani Harul, said:
"Ten officers on two marine police boats, led by PKPgB Mohd Yusri Yusof, were dispatched to the ship and successfully put out the fire there at around 1.39pm. Thankfully, did not spread to the diesel."
According to initial investigations, the fire was caused by failure of the engine. There are no reports on oil spill in the water after the incident.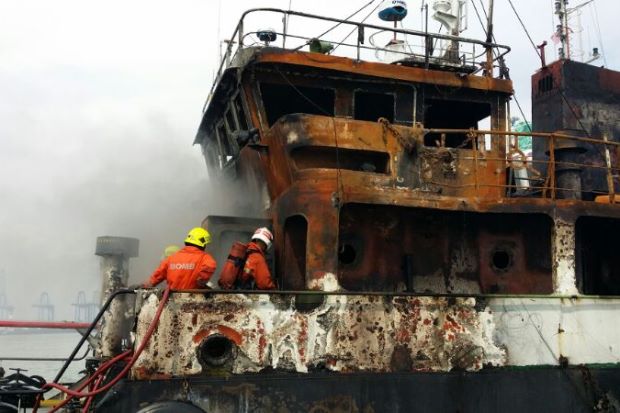 MT Nur Eye 1 (IMO number 8627529 and MMSI 533013700) is a chemical tanker registered in Malaysia. The vessel was built in 1986.