According to CruiseNewser, Norwegian Breakaway, which was towed to Manhattan after she suffered propulsion and steering problem during the weekend, hit a whale. The cruise vessel was on a Bahamas and Florida (7-day) cruise when she stuck in the Hudson River on Sunday. She had 4,500 passengers and 1,600 crew members on board. The ship had been moored in the river for nearly 3 hours before she was towed by a vessel of the U.S. Coast Guard. Norwegian Cruise Lines said in a statement:
"The ship was slightly delayed because of strong currents in the Hudson River."
Norwegian Breakaway was forced to docked in Manhattan where she was investigate by marine inspectors. The inspection found whale on the ship's bow. The report was sent to NOAA (National Oceanic and Atmospheric Administration) which said the ship hit a 45-foot female Sei whale. The dead Sei whale was found by the U.S. Army Corps of Engineers in the Bay Ridge channel near the Brooklyn Army terminal on Monday. According to a spokesman with U.S. Army Corps of Engineers, Chris Gardner, the whale was towed to marine terminal in New Jersey.
The necropsy of the whale did not confirm whether the whale was alive when it was hit by the cruise ship. An investigating officer with the company, Jefferey Ray, said:
"At this point, we just don't know if it is the cause of the (ship's) delay."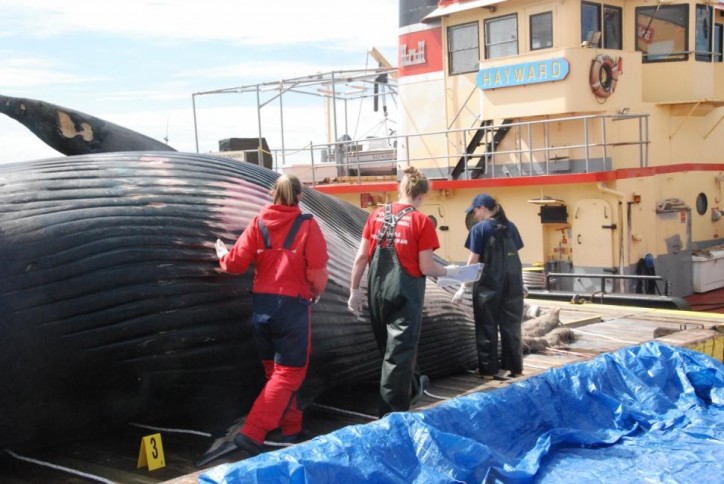 Norwegian Breakaway (IMO number 9606912 and MMSI 311050800) was built in 2013. The cruise ship weights 145,655 gross tons and in 325 m long. Current position of Norwegian Breakaway.