The largest maritime exercise in the world has been scheduled June 26 – August 1. The biennial Rim of the Pacific (RIMPAC) exercise will be held around the Hawaiian Island and will welcome over 25,000 personnel, 47 vessels, 300 aircraft and 6 submarines representing 23 nations. RIMPAC gives the participants a unique opportunity for training. The exercise aims to foster the collaboration between the nations to ensure better cooperation in ensuring sea safety and security. The series started in 1971 and this will be the 24th exercise. New participants this year are the People's Republic of China and Brunei.
Host of RIMPAC 2014 will be U.S. Pacific Fleet and U.S. Vice Adm. Kenneth Floyd is appointed to lead the event. He is a commander of the U.S. Third Fleet (C3F) and will be the Commander of the Combined Task Force (CTF).
For the first time RIMPAC 2014 will welcome two hospital vessels - PLA (N) Peace Ark and USNS Mercy.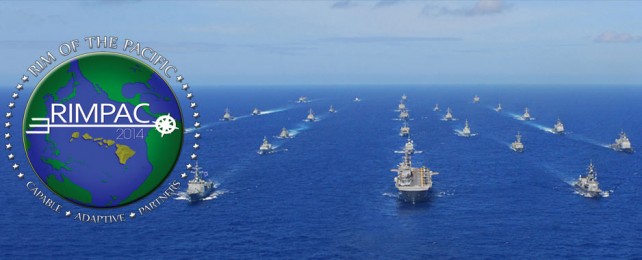 "Capable, Adaptive, Partners" is the theme of this year's addition of the largest maritime exercise in the world. The 23 nations will train a broad range of capabilities and will exercise their flexibility. The participants' capabilities include disaster relief, complex warfighting, maritime security operations and sea control. The training syllabus is relevant to realistic situations. It includes counter-piracy, amphibious operations, salvage operations, diving, explosive ordnance disposal, mine clearance operations, missile, gunnery, anti-submarine and air defense exercises.
Video of the last RIMPAC held in 2012: