Galapaface I has been stuck on rocks in the Galapagos Island, off the coast of South America, since Friday. The incident happened at around 3:15 AM off Puerto Baquerizo Moreno on San Cristobal (archipelago's inhabited islands easternmost). The ship carried 10 tons of cargo.
According to the Galapagos National Park, the cargo ship had nearly 60,000 litres of fuel on board, but there is no threat of spill for the moment because the part of the ship that is on the rock is distant from the fuel tanks. Galapaface I position of grounding is near the Baquerizo Moreno harbour's entrance.
Local sources said the distress call had been made by the captain of the ship. He reported water ingress in the engine room, later he added his vessel had run aground.
According to the local government, containment booms have been placed around the ship to stop potential fuel spill. The cargo of Galapagos 1 currently is being unloaded and the fuel tanks are being emptied.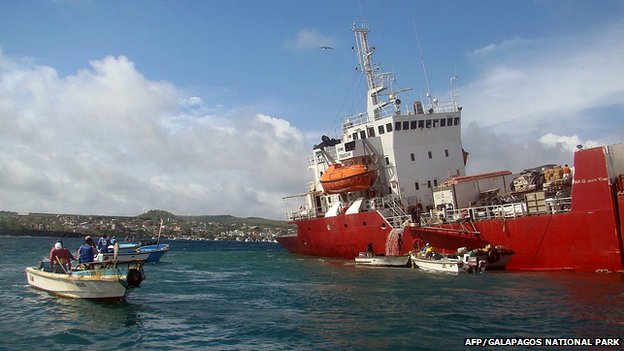 The authorities and the residents in the area hope they will avoid any fuel spill. In April 2001, Jessica, an oil tanker, ran aground in the Wreck Bay spilling more than 175,000 gallons of fuel and diesel oil resulting in one of the worst ecological disasters in the local history.
Galapaface I (IMO 7805241) is a cargo ship registered in Ecuador. The 2,279-ton vessel was built in 1979.