Hai Yang Shi You 981, a deep rig owned by CNOOC (China's top offshore oil producer) has sparked tension between Vietnam and China. The Chinese rig has been deployed south of Hong Kong together with three gas and oil service ships.
According to Ngo Ngoc Thu, Vice Commander and Chief of Staff of the Vietnam Coast Guard, the Chinese rig and its escort were detected on May 1 moving south from Tri Ton Island northeastern area (Vietnam's Hoang Sa archipelago).
On May 2 at 16 PM, Hai Yang Shi You 981 was positioned 80 nautical miles deep in the continental shelf of Vietnam (15°29'58'' North lat, 111°12'06'' East long). The distance to Vietnam's Ly Son Island was 119 nautical miles and the distance to its coast was 130 nautical miles.
Tran Duy Hai, National Boundary Commission Deputy Director, said China has already deployed many various type vessels (including 7 warships). He also added that China has dispatched dozen aircraft in the area 50-60 nautical miles from Ly Son island. According to Hai, the Chinese vessels "aggressively fired water cannon" when Vietnamese law enforcement ships arrived to the scene. The fire has resulted in injuring crew members and damaging coast guard vessels.
Vietnam has dispatched its largest largest patrol vessel CSB 8001. Last position of CSB 8001.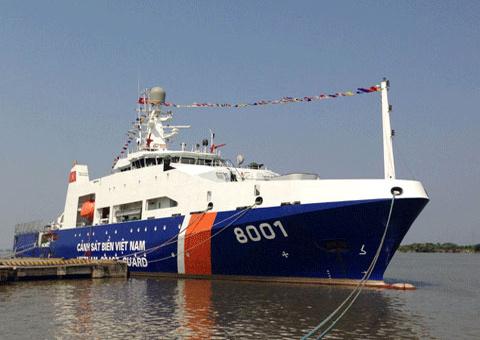 The Vietnam's authorities affirmed that China has violated their sovereignty and the agreement between China and ASEAN (Association of Southeast Asian Nations) on the Declaration on the Conduct of Parties (DOC) in the East Sea. The Vietnam's Foreign Ministry confirmed that the coordinates of Haiyang Shiyou 981 were within their exclusive economic zone and continental shelf and said:
"All activities of foreign countries in Vietnam's waters without Vietnam's permission are illegal and worthless, Vietnam resolutely opposed."
A letter was sent to the rig's owner by PetroVietnam, Vietnam's state Oil and Gas Group, insisting
"CNOOC stop immediately the illegal activities and pull out Haiyang Shiyou 981 of Vietnam's waters."
China stated its position as it reaffirmed its resolve to protect territorial sovereignty amid continued maritime challenges from Vietnam.
The Maritime Safety Administration of China (MSAC) warned on its website Haiyang Shiyou 981 would be operating near the Xisha Islands from 4 May to 15 August.
According to the Chinese State Councilor Yang Jiechi, the operations are within the mandate of China's sovereignty and Vietnam should not disturb any activities. Yang called Vietnamese Deputy Prime Minister and Foreign Minister Pham Binh Minh saying the Xisha Islands are part of the inherent territory of China and there is no dispute about it.
The president of the National Institute for the South China Sea, Wu Shicun, commented the Vietnam's accusation that China has violated its exclusive economic zone operating on its continental shelf:
"This incident happened near the Xisha Islands, which are Chinese territory, and China is not what it used to be two decades ago.
"Vietnam may continue its disruption, but China also has plans to respond. However, both sides know the best way out is by talking."