2 two-plus-two container ships, that will be developed with the dual-fuel engine technology, have been ordered by Containerships Ltd Oy, GNS Shipping/Nordic Hamburg, and ARKON Shipping. The state-of-the-art vessels are conceived with innovative design parameters covering the needs of the short-sea trade for Europe.
Companies, participating in this project, are playing different role. Containerships Ltd Oy will be in charge of the chartering of the ships over the long term, the owner and technical manager will be GNS Shipping/Nordic Hamburg and Arkon will be the commercial manager and the charter broker. The dual-fuel short-sea ships are expected to be finished in 2016 and will be designed to use not only LNG as fuel, but will be capable of using conventional marine diesel oil/heavy fuel—hence.
Containerships Ltd will become the first in the continent short-sea container operator to operate vessels on LNG. The transportation of containers by sea will be handled by an efficient way and environment friendly. The vessels will meat all standards regarding Sulphur Emission Control Area (SECA) regulations. Over time, more and more ships will have to comply with the new environmental regulations (2015). Studies show that the industry will make more and more investments in the LNG technology in order to avoid higher cost of fuel oil. Liquefied natural gas is the cleanest fossil fuel on the market. Calculations show that the new container ships will be able to reduce emissions of CO2 and a greenhouse gas, by 25%.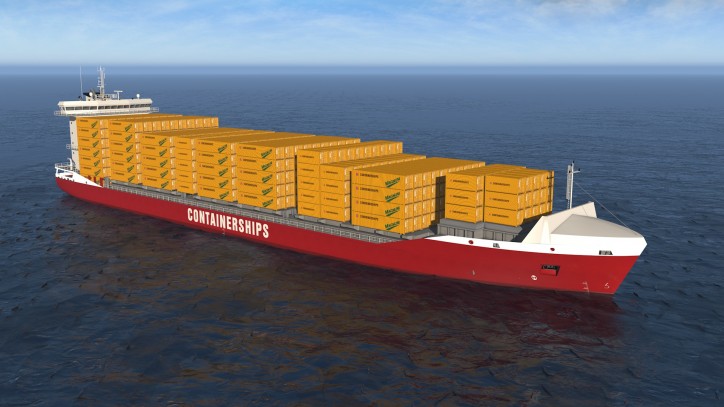 Dual-fuel short-sea ships offer different features: flexibility, capable of accommodating up to 639 units of 45-foot containers, with total capacity of 1,400 twenty-foot equivalent units (TEUs) and the ability to accommodate up to 300 refrigerated containers. The innovative dual-fuel technology will be installed not only on the main engine, but also on the generators.
The idea of the Containerships Ltd is explained by the CEO of the company, Kari-Pekka Laaksonen:
"We are a short-sea operator that is in it for the long haul—and these state-of-the art ships are just one part of our long-term strategy. In addition to offering the most ecologically sustainable solution, the intake capacity of these ships will allow us to keep meeting growing customer demand. And we're confident that both of our partners on this project have the know-how and the experience to deliver."
The Managing Director of GNS Shipping and Nordic Hamburg, Dr. Rowil Ponta says:
"It is our investment strategy to focus on modern, economical and environmentally friendly ships and cooperate with experienced charterers to develop our new building projects. These ships will be the new benchmark for the European feeder trades in terms of environmental and economical efficiency."