France will not cancel the signed contract (1.2 billion-euro ($1.66 billion)) with Russia for the sale of Mistral helicopter carriers. The United States urges France, Germany and Britain to impose more sanctions on Russia, because of the conflict with Ukraine. French diplomatic sources claim that cancelling the deal will do more damage to France than Russia.
There is no information if the contract for the sale of Mistral helicopter carriers will be delayed, because of the sanctions. The European Union and the United States are in difficult situation because of the conflict Russia-Ukraine. Britain imposed sanctions by closing its mansions and bank vaults to magnates, related to the Russian President Vladimir Putin, and seeks ways to be more independent from the Russian gas.
The contract between France and Russia will be discussed later this year. The deal was made in 2011 and includes the delivery of two Mistral helicopter carriers with an option for two more. If the deal is cancelled by France, the country will have to pay the cost of the contract and additional penalties. French sources reveal more information about the current contract and the complicated political situation:
"The Mistrals are not part of the third level of sanctions. They will be delivered. The contract has been paid and there would be financial penalties for not delivering it.


"It would be France that is penalized. It's too easy to say France has to give up on the sale of the ships. We have done our part."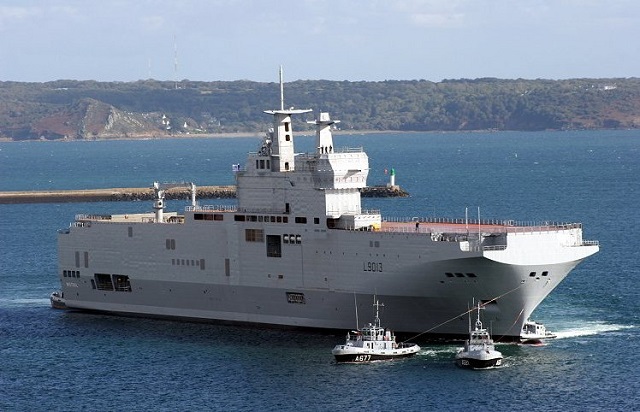 U.S. Assistant Secretary of State Victoria Nuland recently urged France to consider cancelling the contract in order the country to send a strong message to Russia. The Mistrals are considered as advanced technology and the deal will allow Russia to gain access to it. France has also been advised to sell the vessels to a third country or to sell the ships without the secret technology. According to rules of the World Trade Organization, such contracts could be cancelled under several conditions.
French government representative said that the carriers would not be delivered with any weaponry:
"We are not delivering armed warships, but only the frame of the ship,"
The first of the vessels, the Vladivostok, is expected to be delivered in the end of the year. The next, the Sebastopol (name after the Crimean seaport), is planned for delivery by 2016. 400 Russia sailors are expected to arrive in France this summer to start a training for the Mistral. Technical details of the vessels reveal that a carrier of this type can hold 16 helicopters.