Two days after it had capsized, MV Miraj 4 was salvaged by rescue workers in Bangladesh with no bodies inside the stricken ferry. The number of recovered bodies, after the stricken ferry was searched, is 54. The deputy commissioner of Munshiganj district, Saiful Islam Badal, said:
"We were able to salvage the capsized ferry today and there are no more bodies inside the wreck."
About forty passengers managed to reach safety by swimming to shore, 35 more were rescued after the disaster on Thursday afternoon.
According to the Bangladesh Inland Water Transport Authority (BIWTA), the capsized MV Miraj 4's capacity was for 122 passengers but it is believed the people on board have been almost double. A log has not been kept, but survivors have confirmed the ferry was overcrowded.
The salvage operation started on Saturday. Chains were attached to one side of the sunken vessel by divers. The vessel was pulled right side in the afternoon. The end of the salvage operation was declared by Saiful but he added that the search of the river would continue.
"Rescuers from the navy, coast guard and police will continue to search while there is a possibility of finding more bodies in the river," said Saiful Islam Badal.
Relatives of the missing passengers overcrowded the shore. One of them, Mukhlesur Rahman, said:
"I am here to find out what happened to my uncle and my brother and I cannot go back to my home without them."
The families of the victims will be given 20,000 Bangladeshi taka (10 taka = 0,13 USD) by the Munshiganj district administration.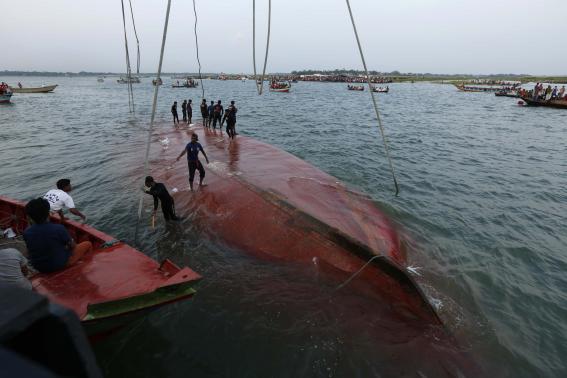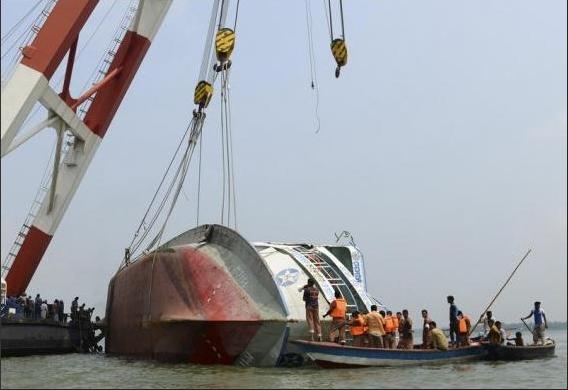 Related news:
Update on Bangladesh ferry disaster: 22 confirmed dead, 40 rescued
Ferry capsizes in Bangladesh, at least 9 dead