The French spy ship FS Dupuy de Lome has been spotted (according to military sources) again in the Black Sea, near the waters off Bulgaria's port city Varna. Reports show that the intelligence ship is located in the western Black Sea at about 30 miles away from the port of Varna. FS Dupuy de Lome is capable of spying the communications in the region.
The vessel is planned to detect radio communications and signals even behind enemy lines. The intelligence ship is capable to spy on phone calls and emails. Countries that do not border the Black Sea are allowed to stay in the region only for 21 days, according to the Montreux Convention Regarding the Regime of the Straits.
The Russian Foreign Ministry accused the United States for violation of this agreement because the frigate USS Taylor was in Black Sea (at a Turkish port) 11 more days than allowed. Russia is not happy that Turkey, as a NATO member country did not informed Moscow. The USS Taylor visited Black Sea after the political situation between Russia and Ukraine escalated.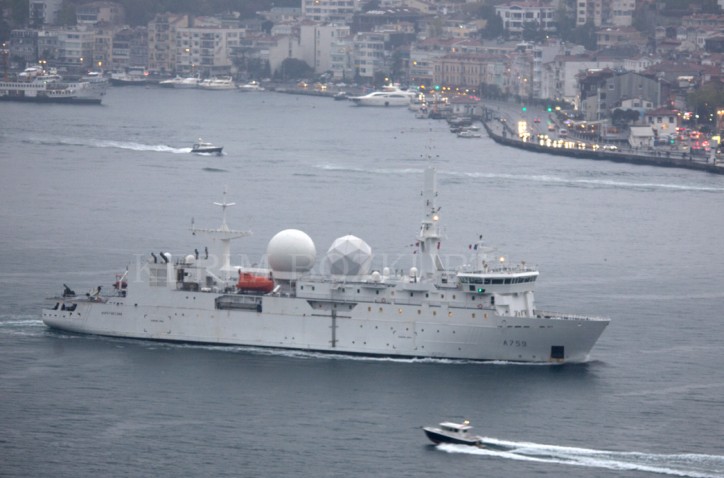 French spy ship FS Dupuy de Lôme passing through the Bosphorus. Photo: Kerim Bozkurt.
Dupuy de Lome is for a second time in the region for the last days, the intelligence ship was earlier sent to the Black Sea in April because of the tense situation in the Crimean peninsula. The French spy ship was sailing near the U.S. destroyer Donald Cook (in April) which was a witness of a nearby miss by a Russian jet. Dupuy de Lome is a 3,100-ton intelligence ship with a crew of 108. The vessel is designed with an array of listening gear for detection and analyze of radio and radar signals.