US Coast Guard (USCG) has resumed the search for the crew of the missing yacht Cheeki Rafiki. The search, which was called off on Sunday, was resumed after a request from the British government.
The yacht disappeared with its 4 crew members on Friday while it was en route from Antigua Sailing Week to Southampton. It began taking on water 1,000 km (620 miles) east of Cape Cod (Massachusetts) and was forced to divert to the Azores on Thursday. The search was called off after 53 hours, because the USCG said the estimated survival time past the time of distress was approx 20 hours. Family members insisted the search should continue. Dan Carpenter, son-in-law of the missing Steve Warren, said:
"We are holding out hope. We are aware that it is still a long shot but while there is some hope, we are concentrating on that."
The father of James Male, Graham, thanked the authorities of the UK, US and Canada.
"Let's bring our loved ones home," he added.
Cheeki Rafiki was equipped with a 12-men life raft which is required to meet ISO 9650. The raft is highly visible and according to Mike Tipton, professor of human and applied physiology at Portsmouth University, if it had been launched it would probably have been spotted by the searchers.
Video explains what is inside a life raft similar to the Cheeki Rafiki's one:
The record of surviving in a life raft dates from 1942 when Poon Lim spent 133 days at sea, Dougal Robertson's family holds the runner-up position with 38 days.
Professor Tipton said:
"In the best possible scenario if they are in a life raft and there are frequent rain showers for drinking water you can go many, many days. If you are in freezing cold water and your raft is being swept and flooded then it's hours rather than days."
Cheeki Rafiki got in trouble in the North Atlantic, the temperature of the water in the area is about 15C.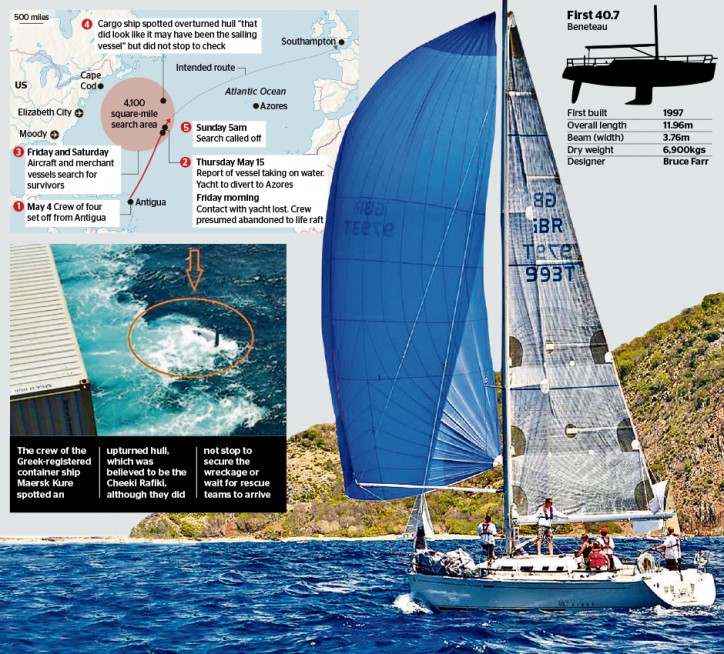 Related news:
Cheeki Rafiki crew not found yet, Maersk Kure photographs an overturned hull