As CruiseNewser reports, MSC Cruises announced for a deal with the Italian shipbuilding company Fincantieri about the construction of two 154,000 gt cruise ships. The two new additions to the fleet of the cruise company will join the other 12 cruise ships at different time. There is an option in the signed contract for the construction of one more vessel.
The deal was finalized at the Palazzo Chigi in Rome in the presence of MSC Cruises Executive Chairman Pierfrancesco Vago and CEO Gianni Onorato, and Fincantieri CEO Giuseppe Bono. The first cruise ship is planned to be named "Seaside" and is going to be the largest cruise ship built by the Italian company Fincantieri. The new prototype will be a unique vessel with innovative additions.
The new cruise ships are expected to be different from an architectural point of view, a start of a new generation. The estimated price of each vessel is €700 million ($954 million). The money, needed for the construction, will come from the insurance and financial company SACE. The first cruise ship is planned to be delivered in November 2017, the second in May 2018.
The dimensions of the new additions of MSC Cruises are impressive. The passenger capacity is planned to be 5,300 plus 1,413 crew members. The cruise ships will have a gross tonnage of 154,000 tons.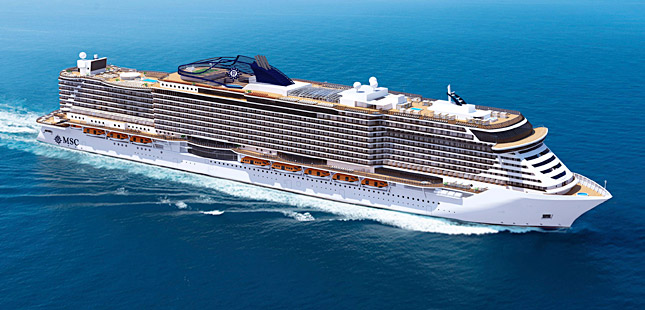 The Seaside protoype will be the largest ship Fincantieri has ever built
Pierfrancesco Vago, Executive Chairman of MSC Cruises said:
"From the moment we started talking with Fincantieri, we had in mind to design and build two completely new ships, revolutionary in their structure, unlike anything that exists on the market today."
"Today, MSC Cruises adds the last piece to its new industrial plan that will allow us to double the capacity of our fleet by 2022. With the arrival of the new ships we will reach a capacity of about 80,000 passengers a day," said Gianni Onorato, CEO of MSC Cruises. "As of today we have launched an investment plan of over €5 billion that includes new builds, ordered in Italy and France, and the conversion of four ships already in the fleet."