A high-speed ferry has crashed into a breakwater off the main ferry pier in Macau with 220 passengers and 13 crew on board.
The incident happened early this morning resulting in 70 injured people. According to the marine and weather bureau in Macau, Cacilhas, a TurboJet ferry, mounted the breakwater and started listing to its right. The injured passengers are aged 17 - 69 years, 25 women and 45 men from different countries. Nine of the injured are crew members. A spokesman with the marine and weather bureau said:
"The injured were conscious while being sent to hospital.An initial assessment showed they suffered minor injuries, mainly bruises and abrasions."
Only one crew member have been injured seriously to the waist, 50 of the injured have already been sent home. The marine and water bureau confirmed the ferry had a hole in its bow, large enough for the engines to be seen through it.
"After the crash, the vessel listed to one side, ran aground and slightly took in water," their spokesperson added.
At the time of the incident, there was a high tide which might have submerged the breakwater.
The passengers were evacuated with the assistance of at least four rescue boats. They were transferred to a temporary pier at Taipa and to the inner harbour ferry terminal. An investigation will be launched by the Macau government. According to the operator of ferry, the vessel was travelling at 64 km/h. The Cacilhas was last inspected last year in July. Its captain has a 34-year sailing experience. According to a passenger on board, there were several loud noises before the boat began to list.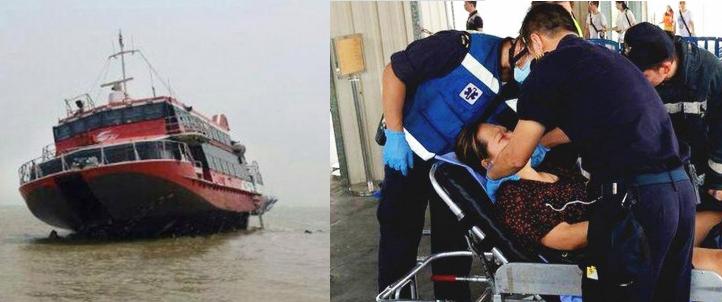 Cacilhas (IMO number 8019564 and MMSI 477092000) was built in 1981. Its gross tonnage is 267 tonnes.
Last recieved position of Cacilhas.