Sui Hai Yun 382 has run aground at Butterfly Beach in Tuen Mun (Hong Kong). The vessel was en route to Tuen Mun when it suffered an engine problem causing it to drift ashore. The incident happened at a busy beach area where families were sunbathing. None of the 7-member crew was injured, it only damaged the shark nets which are protecting the beach.
A spokesman from the local police said:
"An initial investigation indicated that the vessel broke down because of an engine problem. Due to strong winds, the vessel was suspected to have been blown into the shore."
The beach area around the aground Sui Hai Yun 382 was closed off, but the vessel remained a major attraction. Further investigation of the incident has been launched. Tests will have to assess the shark net damage. Thirty-eight beaches in Hong Kong have been protected by shark nets since 1995 when two people were killed by sharks off Sai Kung.
The incident is the second with aground vessel in the city this month and the forth for 2014.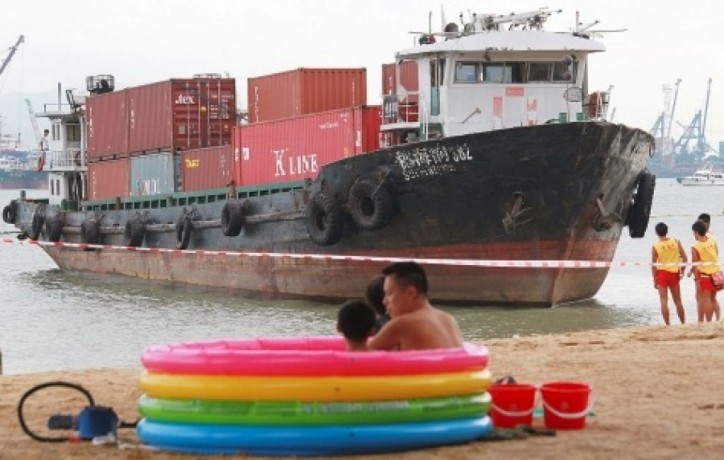 Image by: Dickson Lee, scmp
A 63-meter vessel has been aground off northern Cheung Chau since June 2. It is loaded with construction waste and a salvage plan is ongoing, according to the Marine Department.
The 193-meter Hansa Constitution was a major attraction on Apr 6, when it ran aground just feet from a popular jogging path at Pok Fu Lam.
In the first incident for the year, on Feb 21, a 2,500 – ton vessel loaded with cement hit the rocky beach at Tung Wan Tsai on Cheung Chau.