Caraka Jaya Niaga III-7, registered in Indonesia cargo vessel, has caught up fire during repair works. The incident happened on Thursday (26 June) while the vessel was anchored near Buoy 10 off Wilmar Harbour (Gresik, Indonesia). The fire errupted in the engine room of Caraka Jaya Niaga III-7 and probably was caused by welding works. A spokeperson with the port authorities said:
"It is believed the fire was caused by sparks when welding pipe repair ballast tanks in the engine room, but to case is handled to Adpel Gresik ."
The vessel was loaded with logs from Papua Bintuni. Three tugs were immediately dispatched to the scene. Due to the strong fire, a forth one was sent a few hours later. The fight with the fire continued from 3 pm to 10 pm (local time). The 25-member crew of the vessel was evacuated on board the tug Orient Vicyori II, there were no reports of casualties. The cargo of timber logs stayed intact because the fire did not reach the up deck. Caraka Jaya Niaga III-7 was towed to port, its damage is yet to be assessed.
Caraka Jaya Niaga III-7 (IMO number 9018232 and MMSI 525016673) was built in 1992. The DWT 3,200-tonne vessel is owned by PT Sumbermas PLYWOOD (PT SP).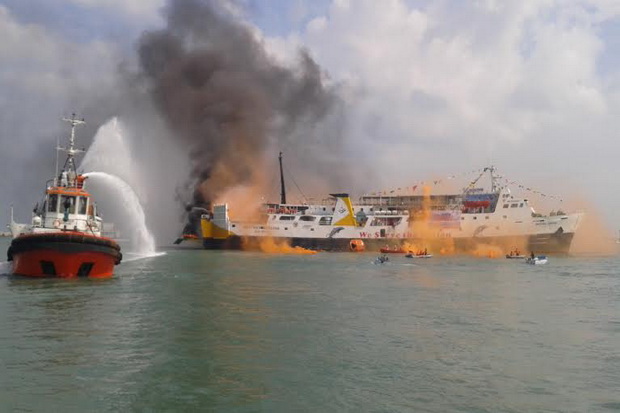 Image: Illustration by Sindonews