Today is the latest step of the building of a new generation UK aircraft carrier. The £6.2-billion project is going to be named at an official ceremony by the Queen. HMS Queen Elizabeth, he UK's biggest warship ever, have to be the first of two Queen Elizabeth-class aircraft carrier but at a time of financial uncertainty, it is hard to tell if the newest British battleship will remain one of her kind. A question stays open and is still unclear exactly how many F-35 (US-built jets) the vessel will carry.
The official ceremony is going to be held at Rosyth. It is expected that nearly 4,000 guests will be able to see a bottle of Islay malt whisky smashed in the vessel's hull by the Queen. The ceremony will be attended by the Prime Minister David Cameron and First Minister Alex Salmond.
At the time of announcing the ceremony (earlier this year), Defence Secretary Philip Hammond said:
"This occasion will mark a major milestone in regenerating the UK's aircraft-carrier fleet and its power projection capability, with the first Lightning II aircraft due to begin flight trials off the deck of HMS Queen Elizabeth in 2018."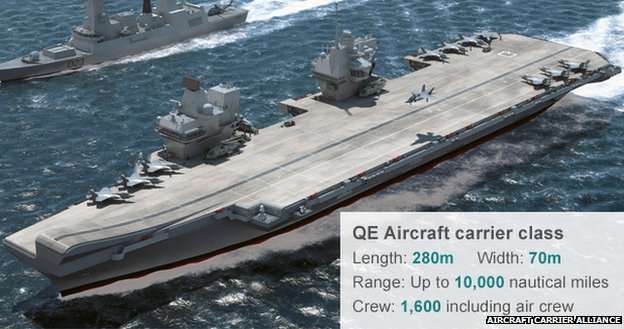 The construction of HMS Queen Elizabeth was announced in 2007 and it began in 2009. The vessel is due to be commissioned in early 2017 and she has to be operational from 2020. For her first Commanding Officer has been appointed the former captain of HMS Illustrious and HMS Ark Royal. The 65,000-tonne warship will have a crew on nearly 700 members. Her length can be compared to those of 25 buses.