Mv Al Noor has been detained in Lamu by authorities in Kenya. The vessel was en route to Mombasa when it was intercepted on July 2 on suspicion of illegal cargo transportation.
Sevelino Kubai, Mombasa County Police Commander, explained the vessel was one of two being watched over since their departure from Somalia. He confirmed the authorities in Kenya had received information that both were carrying drugs and illegal firearms.
"We intercepted one of the ships in Lamu which had 10 crew members from different nationalities and it was escorted to Mombasa under tight security. The Kenya Navy handed it over to police for further investigations," added Sevelino Kubai.
After the documents of the vessel had been checked, they have risen more suspicions. They indicated the mv Al Noor was sailing towards Zanzibar, but in the same time, the manifest of the vessel showed they were "destined for Kenya" after been loaded in Mombasa. Sevelino Kubai said:
"The documents from the ship reflect that the consignment was loaded in Kenya and that they were destined to Kenya. This raises suspicions."
The cargo of the vessel consists of 150 bags of cement. The crew stated the cargo came from Yemen. Mr Kubai confirmed that currently the cargo was being offloaded with the assistance of a Nairobi anti-narcotics team.
The crew of mv Al Noor has 10 members – 7 from Pakistan, two from India and one from Iran. They all are being inquired by the authorities.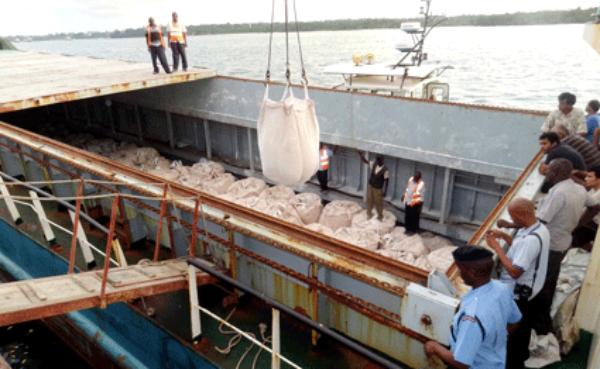 Unloading the cargo : Image by mwakilish