Pieter Schelte, one of the world's biggest ships to be completed in Rotterdam port. The contract was signed by the port Authority of Rotterdam and Allseas, a world leader in offshore pipeline installation and subsea construction. Pieter Schelte is planned to arrive in Rotterdam port by the end of 2014.
With its length of 382 meters and impressive width of 124 meters, Pieter Schelte becomes one of the world's biggest ships ever built. Although the length of Pieter Schelte is much smaller compared to that of the largest vessel which is currently being built, Shell Prelude FLNG project (488-meter long, 74-meter wide) its width almost doubled, and it makes it unique.
The main purpose of the Pieter Schelte will be to install and remove topsides and jackets of large offshore gas and oil platforms in just one single lift. You can see on the Pieter Schelte's image below, a slot on its bow, where oil and gas platforms' topsides will be lifted. Moreover, the mega vessel, Pieter Schelte is being equipped for laying pipeline structures. With its capacity the vessel will be the largest pipelay ship in the world, as well. Pieter Schelte will be able to lift up to 25,000 tonnes of offshore platofrms' jackets and up to 48,000 tonnes of topsides.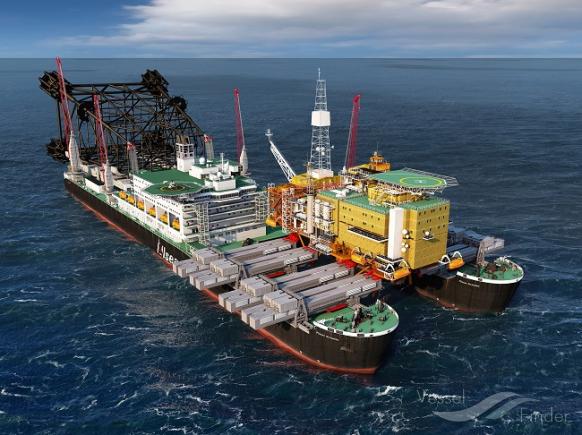 The final assembly of the mega ship will be made in Alexiahaven, Netherlands, as the inner lake of Maasvlakte 2 provides the necessary space for the mega vessel. The port authority confirmed that a special pit will be dredged for Pieter Schelte. Furthermore, 65-meter long lifting beams of the topsides lift system, currently under construction in Italy and subsequently scheduled for delivery, will be installed in Rotterdam port.
"We are really proud of the fact that a company leader in pipeline constrcting such is Allseas, is responsible for such a great project, as Pieter Schelte is. The construction of this vessel will be a grandiose boost for the maritime industry, and we, on behalf of Rottherdam port, will be pleased to make it possible. This corresponds to our efforts to develop the Rotterdam port as one of the largest centers in the marine industry," stated Allard Castelein, CEO of the Rotterdam Port Authority.