The first RST54 project vessel has officially been launched in Navashino at Okskaya Shipyard. BF Tanker commission the unique project concept for tanker vessels that can also carry both dry bulk and container cargo. The concept has been developed by the Maritime Engineering Bureau (MEB) and all 10 vessels of the project should be built by the next year.
The platform-tanker vessel carries oil going to its destination and returns with dry cargo. That makes it maximally effective during operation.
Rishat Bagautdinov, Director of Shipping and Shipbuilding with UCL Holding, explained:
"The RST54 project is based on the idea of creating a genuinely general-duty cargo vessel capable of significantly improving the efficiency of operations in the restricted context of the available river infrastructure and the seasonal nature of the inland waterways navigation. Increasing the potential amount of cargo transported will make it possible to provide reasonable periods of investments return as well as raise funding for new vessels at attractive conditions."
Balt Flot 1 is a Volgo-Don Max class vessel. Its deadweight is 5,589 DWT and it can carry up to 5,250 tons of oil products (light and dark) as well as up to 4,500 tons bulk and general cargo (coal, timber, metals, gravel etc). Balt Flot 1 can transport 148 TEU in containers or 320 vehicles.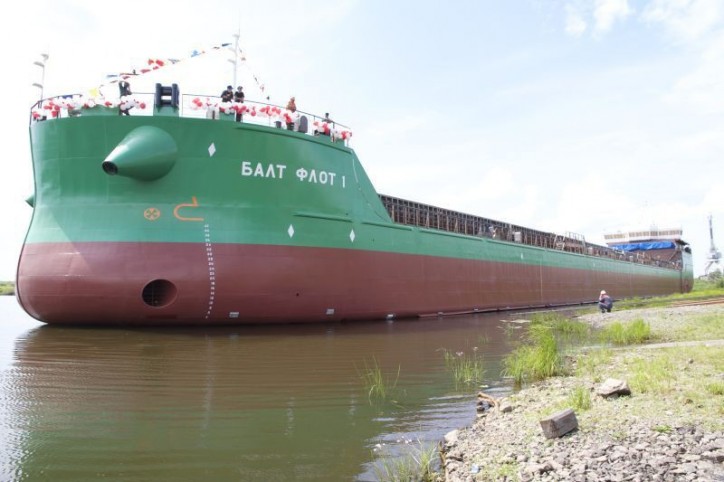 Image by: portnews.ru
The vessels of the RST54 project are 140.85 m long, 16.6 m wide and they have 6 m depth which make them compatible with the Volga-Baltic Waterway and the Volga-Don Canal.
The expected delivery of Balt Flot 1 to the client is in September this year. The vessel will be operating with Litasco (Lukoil OJSC international trading operator).