Posh Mogami, a semisubmersible barge registered in Singapore, sank 2 NM of Sekupang (Batam, Indonesia). The incident happened on July 18 at night and resulted in three deaths.
According to the Maritime and Port Authority of Singapore (MPA), there were 9 crew members on board Posh Mogami and it was transporting submerging trials towed by the tug Ocean Unicom. The Indonesian authorities managed to rescue six seafarers - two from Singapore, one from Malaysia, one from the Netherlands, one from Indonesia and one from the Philippines. The victims are a Singaporean (Chew Zhi Wei Terence, 31), a Chinese (Zhejiang, 28) and one Myanmarese (Ye Myint Myat, 33) (the names of the drowned were reported by Jakarta Post). The cause of the incident is yet to be defined.
The government agency in Singapore said in a release:
"As the Flag Administration of POSH Mogami, MPA is investigating the cause of the incident with the relevant authorities."
Posh Mogami is an ABS-classed vessel with deadweight of 30,500 DWT. The 150-meter vessel was built in 2012 in China by Cosco Shipyard Zhouzan and its owner is PACC Offshore Services Holdings Ltd. (POSH), a Singapore's offshore marine services provider.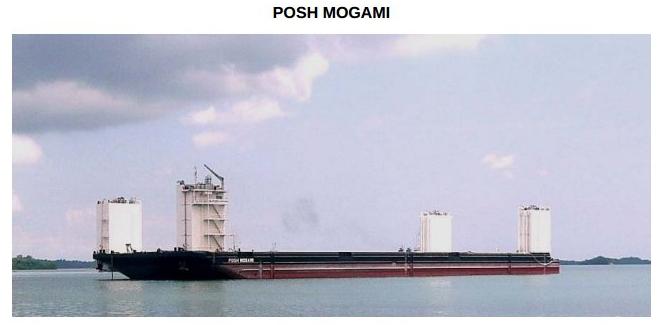 Image by: POSH