Costa Concordia embarked on her last voyage early this morning. Hundreds of onlookers, including survivors from the disaster, gathered on the shore to see the beginning of the journey.
The salvage master in charge of the whole operation, Nick Sloane, commented:
"This is a big day for Giglio but we'll only be able to relax once it reaches Genoa."
Costa Concordia is sailing accompanied by a convoy of vessels, two tug boats (Blizzard and the Resolve Earl) are pulling the liner at a speed of 2 kn (2.3 miles per hour, 3.7 km per hour). There are 17 men on board Costa Concordia. The initial part of the route goes through rough seas and passes through the Tuscan archipelago of islands (including Montecristo and Elba). Then the wreck will reach the open sea past Corsica's northern tip. There the convoy will be escorted by ship of the French Navy. According to the plan, Costa Concordia should reach Genoa on Sunday.
In a solemn ceremony, survivors were throwing flowers into the sea. Anne Decre, representing the French Survivors' Collective, said:
"We hope that what we've kept inside us will depart when the boat departs. And that as it goes on its way, we can finally go on ours."
Meanwhile, the body of Russel Rebello, an Indian waiter, is still missing. The search for his remains will continue during the dismantling of the ship.
The "most hated man" in Italy, captain Francesco Schettino, was caught by photographs partying on Monday evening at a villa in Foro on the island of Ischia.
Costa Concordia and her convoy: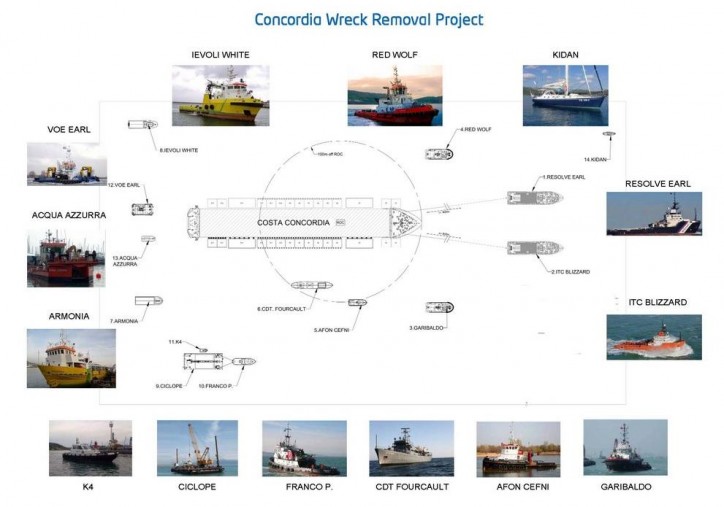 Current position of Costa Concordia
Current position of Resolve Earl
Route of Costa Concordia: