"Midway Alignment of the Bothnian Corridor" initiative has chosen Wärtsilä's ship design group to design a new vessel operating the Gulf of Bothnia link, Baltic Sea. The project is sponsored by EU and has a budget of approximately €20 m. The initiative aims providing transport system which is secure as well as environmentally and economically sustainable.
The new Ro-Pax ferry will operate the route Vaasa (Finland ) - Umeå (Sweden) trough the Gulf of Bothnia. According to Wärtsilä, the new vessel will be designed to operate flexibly considering the seasonal changes, the needs of the passengers and the harsh winter environment. The Project Leader for the Midway Alignment of the Bothnian Corridor project, Mathias Lindström, who is also Director with Kvarken Council, confirmed feasibility and environmental sustainability are essential cornerstones.
"Wärtsilä's experience and expertise will contribute greatly to achieving a successful solution," he added.
The Wärtsilä's Vice President, Ship Power Solutions, Magnus Miemois, said:
"This is an important project and we are proud to have been selected as the design partner responsible for developing the ship design. Integrated solutions for gas fuelled vessels represents a key focus area for Wärtsilä, and is one where we clearly have a leading role in the global market. As a first step, the initial design will be finalized whereby we can start making more precise budgets and develop the project further."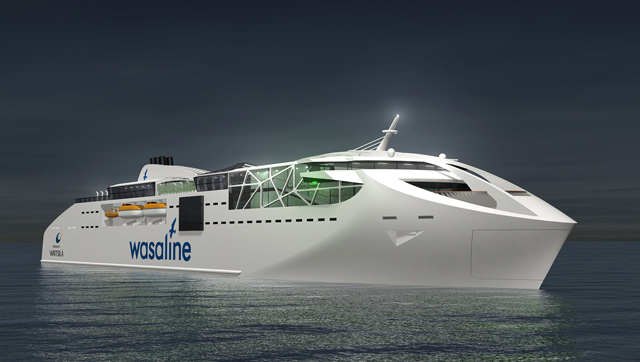 Rendering: Wartsila
The design of the new Ro-Pax ferry is expected to be ready in the second quarter of 2015.