A project for an extra lane to the Suez Canal has been unveiled by the Egypt's President Abdel Fatah al-Sisi. The new 72-kilometre (45 miles) line will aim to increase the number of vessels using the canal each day.
Currently, the Suez Canal, which allows vessels to travel from Europe to Asia avoiding southern Africa, has one 163-kilometre (101-mile) line that covers only one way traffic. The plans, announced by President Sisi, would provide both ways traffic for just under half of the length of the canal.
The project would not be funded by foreign financing. The expected cost of £2.4 bn ($4 bn) would be ensured by independent contributions from Egyptian individuals. President Sisi commented:
"We want all Egyptians to hold shares in this project."
The Suez Canal Authority's chairman, Mohab Mamish, said:
"This giant project will be the creation of a new Suez canal parallel to the current channel."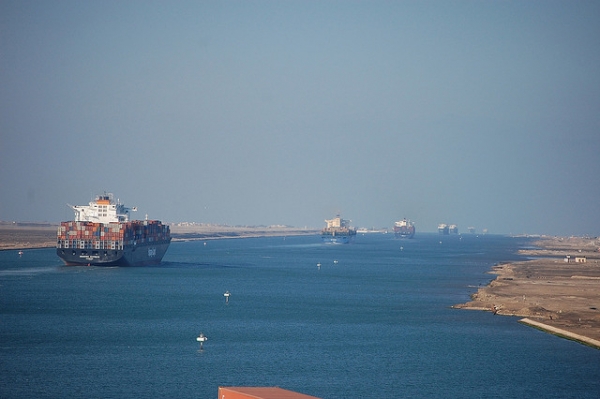 Image: jgmorard
The new line is expected to be completed in five years, although Egypt will reach out to finish it within the ambitious 3 years.
It is uclear to what extent the operations in the area would be speeded up by the expansion.
"They are only increasing capacity in a part of the canal, so the merits of it still have to be weighed up. They are essentially turning a motorway into a single-carriageway halfway through." commented Angus Blair, a Cairo-based analyst and president of the Signet Institute.
The Suez Canal was opened 145 ago and stayed under colonial control until 1956. This was the year, when Gamal Abdel Nasser, Egypt's then president, got it back into country's ownership – an episode that still is a source of deep national pride in Egypt. The canal earns nearly $5 billion a year in revenues to Egypt.