A disaster was prevented on Monday at Visakhapatnam port in the afternoon when the master of Jal Vahini, a bulk carrier, made an attempt to steer his vessel into port. The incident occurred at around 3 pm LT. The bulk carrier was waiting anchored outside the port to load a Jindal Steel consignment but suddenly it was seen approaching a jetty without been permitted to.
According to sources at Visakhapatnam Port Trust (VPT), the harbour pilot and CISF (Central Industrial Security Force) personnel manning the port managed to board the Jal Vahini. Having overpowered the captain, they switched off the engine. The master and crew were taken into custody and an hour later the bulk carrier was berthed at Ore Berth-1.
Prior the incident, the vessel's captain, Manmohan Saba, asked the port control for permission to enter. Having the cargo not ready, the permission was denied. Manmohan Saba insisted stating the vessel had technical issues but his vessel was still refused in port. It was then when he started steering Jal Vahini into harbour.
Krishna Babu, chairman of VPT, commented:
"From anchorage no vessel can move into the port without permission, but somehow this vessel started coming inside. The port control gave repeated warnings and when he still failed to stop, VPT followed the standard protocol of informing the CISF, coast guard and Indian Navy after which the harbour pilot boarded the ship and defused the situation."
According to sources, Manmohan Saba, was allegedly mentally disturbed for the past one week. The crew had complained to their shipping company and a replacement was about to be sent. The master had problems with the company. Last week, he forcibly docked Jal Vahini at Colombo port for two days after a quarrel with the crew.
Currently only the master is into custody and still there are conflicting reports on what exactly happened.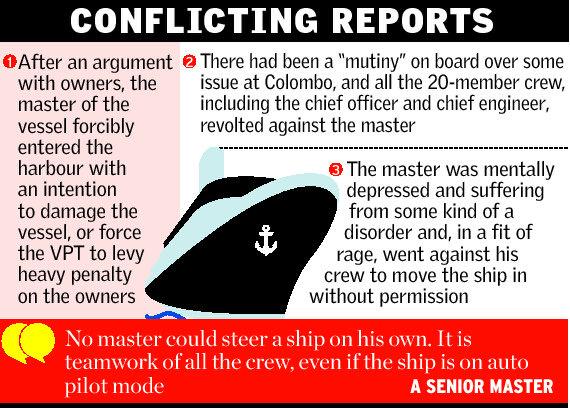 Image: thehindu
Jal Vanini (IMO number 9562233 and MMSI 419000278) was built in 2011 and is registered in India. Manager of the DWT 9,838-tonne vessel is Global United Shipping (Chennai, India).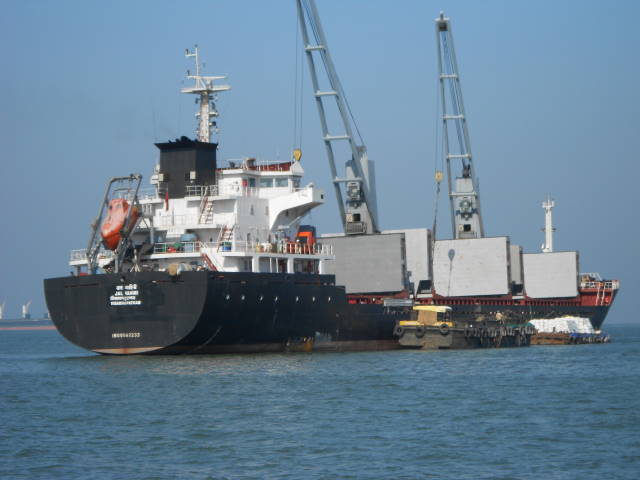 Source: timesofindia