New highly ductile steel for shipbuilding, Nsafe-Hull, has been developed by Nippon Steel & Sumitomo Metal Corporation (NSSCM). It was adopted through collaborative research and development that also involved Japan's National Maritime Research Institute (NMRI) and Imabari Shipbuilding. The new shipbuilding steel was designed with improved collision protection using microstructural control of its chemical composition at the crystalline level.
The material has superior ductility while maintaining conventional steels' workability (weldability and machinability). This means that in side collision, the absorption of energy before suffering a hull damage is roughly three time that of a conventional steel vessel.
According to NMRI, the Imabari Shipbuilding's Saijo Shipyard has already launched a bulk carrier (DWT 206,600) for Mitsui O.S.K. Lines (MOL) with hull containing 3,000 tons of Nsafe-Hull. It was used for the side plates of fuel tanks and cargo holds (structural parts which require high collision safety performance).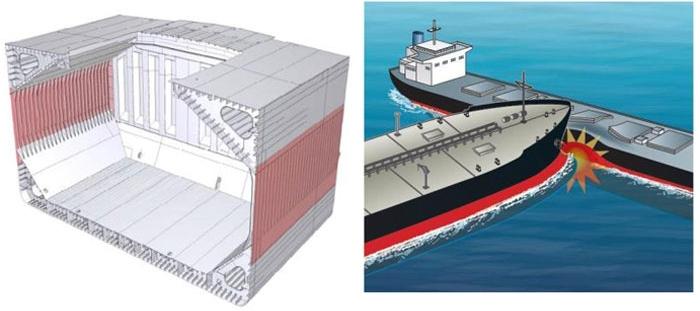 The use of the material co-contributes to preventing water ingress in cargo holds and oil leakage resulting in environmental pollution.
ClassNK's "Joint R&D with Industries and Academic Partners" scheme will support further planned advanced analysis.

Source: nsscm.com