Pacific Queen, a fishing vessel, has grounded at Harris Harbor in Juneau. According to the U. S. Coast Guard (USCG), Sector Juneau, there was a report of possible pollution caused by the incident on Tuesday morning.
When the Coast Guard personnel (pollution responders) arrived on the scene, they found a small sheen. Petty Officer 1st Class Jeffry Crews, marine science technician with Sector Juneau, commented:
"Even though this is a small spill, Coast Guard members are trained to respond to all sizes of spills of oil or hazardous materials."
While assessing the vessel, it was observed that Pacific Queen's hull suffered minor damage as a result of the grounding. According to the owner of the vessel, it has on board an estimated 150 gallons of diesel. The USCG officials confirmed the owner of Pacific Queen is cooperating with them to lessen any pollution threats.
Pacific Queen (IMO number 7307689 and MMSI 367019330) was built in 1938 and is registered in the United States.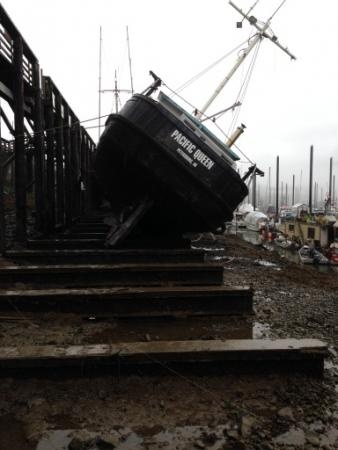 Courtesy: USCG