Flag Gangos, a bulk carrier, has allided with the tanker Pamisos and the barge Web 235. The accident occured on late Tuesday evening on the Mississippi River.
Having lost its power and steering, Flag Gangos allided with the two other vessels moored at the International Matex Tank Terminal (close to mile marker 97.4) near Gretna, the U.S. Coast Guard (USCG) said.
The Pamisos and Web 235 were conducting transfer operations. The barge broke free which caused oil discharging into the river as it was transferring fuel oil to the towing vessel Capt. Shawn D. Martinez.
According to the USCG, both Pamisos and Web 32 sustained damage and boom was deployed in the area. There were no reports of injuries.
Flag Gangos (IMO number 9643908 and MMSI 229376000) was built in 2013 and is registered in Malta. The 185-meter vessel has DWT of 56,526 tonnes. Last received position of Flag Gangos.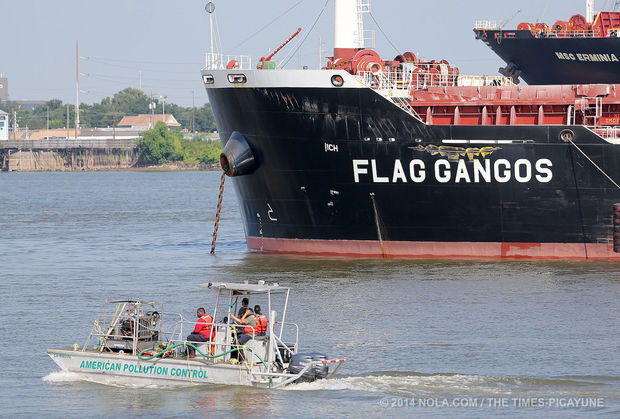 Pamisos (IMO number 9460576 and MMSI 636014809) was built in 2011 and is register in Liberia. The crude 229-meter oil carrier has DWT of 105,355 tonnes. Last received position of Pamisos.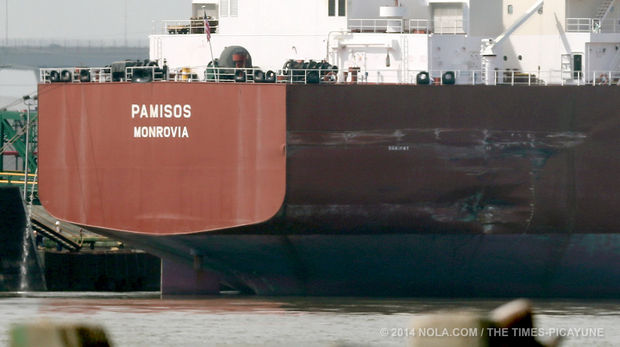 Images: Michael DeMocker, Nola.com / The Times-Picayune