Navibulgar (Navigation Maritime Bulgare), a Bulgarian shipowner, has placed an order for four eco-friendly bulk carriers to Jiangsu Hongqiang Marine Heavy Industry. The contract with the Chinese shipbuilder is with options for two more newbuilds.
The new vessels in the Navibulgar fleet will be built to the Bluetech 42 design. The design, developed by Foreship BlueTech Ltd, provides 15 percent greater hold volume and 5-9 percent more deadweight compared with competitors. Furthermore, the design offers the lowest in the class fuel consumption to hold volume and deadweight ratio.
The HSVA database shows that the Bluetech 42 design is with the lowest resistance through the whole speed range.
The main engine of the vessel will be a MAN 5G50 B9.5 TII. It will develop 4,900 kW NCR and the fuel consumption at 14 kn will be 18.4 t/day. The overall length of the vessel will be 185 meters. The DWT 42,300-tonne Bluetech 42 ships will have hold volume of 57,750 cu.m and ice class 1C.
Navibulgar is the leading shipowner in Bulgaria. Founded in 1892, the company is based in Varna. Its fleet comprises 37 ships.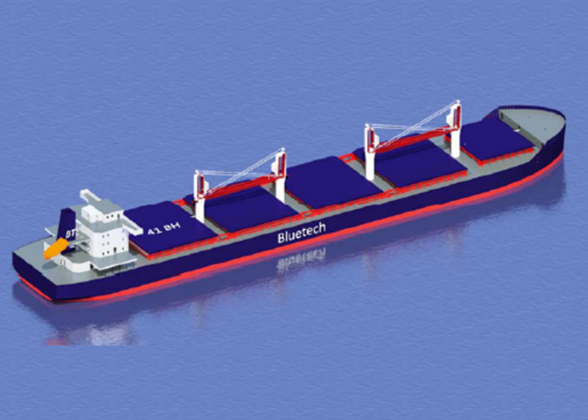 Image: ForeShips