Vigorous, the largest floating drydock in the United States, is on its way to Portland. Currently, the $50-million equipment is sailing in three parts stacked on MV Blue Marlin. The Vigorous is due to arrive on Sunday evening or Monday morning, depending on weather and traffic.
The Vigorous will be used in the Vigor Industrial's Portland shipyard (Willamette River). Upon its assembling it will be the largest floating drydock with length of 960 feet.
According to Frank Foti, CEO of Vigor, the new drydock will allow Vigor to serve large vessels.
"The Vigorous is a symbol of the resurgence of the maritime industry in Portland and the wider Pacific Northwest. Back in 2000, the shipyard was struggling. Today, we're growing across the region, and I'm proud and profoundly grateful that we're in a place to make this kind of investment," he said.
In 2001 Vigor sold Drydock 4 which was placed in the Bahamas by its buyers. According to Foti, Vigorous "is nearly an exact duplicate" and closes the opened in 2001 circle.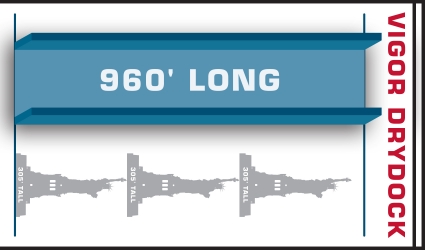 Image: VigorIndustrial
"The drydock is attracting new business and new jobs to the region. Without the Vigorous, these large ship repair projects and the family-wage shipyard jobs they create would just go somewhere else," he added.
The Vigorous was constructed by Shanghai Zhenhua Heavy Industries (Jiangsu Province, China). It is expected to be operational starting from November 1. Two vessels have already been queued for maintenance.