The container ship Vega Auriga, which was recently banned from Australian ports, has now been detained in Port of Tauranga, New Zealand.
According to the spokeswoman with Maritime New Zealand, Sarah Brazil, the authorities boarded the vessel and during their 5-hour inspection, 14 deficiencies were found. Vega Auriga won't be allowed to leave the port unless 11 of the deficiencies are fixed. Those are related to seaworthiness, crew rest hours and maintenance.
The container vessel was banned for three months from any port in Australia on Wednesday. Allan Schwartz, manager of the Australian Maritime Safety Authority (AMSA), declared Vega Auriga as unseaworthy.
According to local media in New Zealand, Brendan Horan, an independent member of parliament, has compared Vega Auriga with mv Rena.
"Rena was also detained several times in Australia, and we have seen the results of that," he said.
He called Vega Auriga a "ticking time bomb" which poses a great risk of accidents.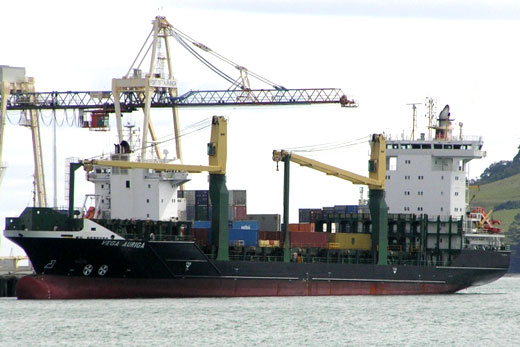 Image by: Nigel Price
Current position of Vega Auriga
Related news: Container ship banned from Australia due to crew mistreating