Venice port authority has announced plans for a new mega-port. Paolo Costa, the head of the Port Authority and a former mayor of the city, hopes the new facility will help Venice to handle far more trade than its current container terminal (Porto Marghera) and will not allow the port to become only a heritage attraction in Disney style.
"Venice cannot just be a heritage Disneyland preserved in mothballs. That is a vision of necrophiliacs. Without a busy port, Venice will die. The platform would enable the Adriatic, not only Venice but also Trieste, to resume a role in world trade," he said.
The cost of the new facility has been estimated to be in the range €2 - 2.8 billion. The funding would come from private enterprise and the government. The facility would be located 8 miles offshore. The sea depth in the area is nearly 70 feet which would allow the largest container vessel to dock there. The plans also provide an oil terminal sheltered by a breakwater.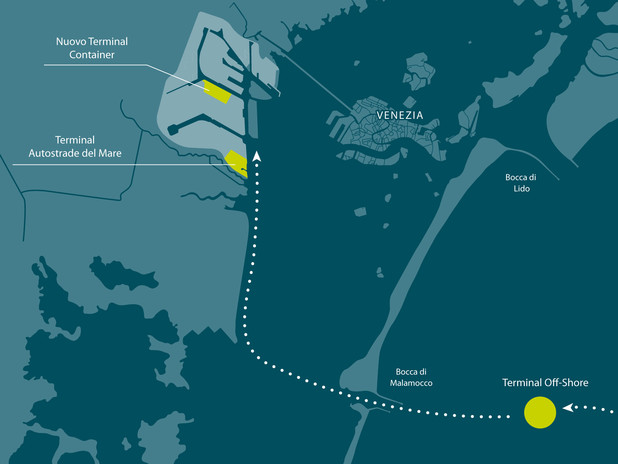 Offshore terminal's position image by: port.venice.it
"With the deep sea platform we could develop the port and protect the lagoon," says Mr Costa.
Compared to Singapore and Rotterdam, Venice handles very small amount of trade with its 450,000 TEU a year (for reference: Singapore - 60 million, Rotterdam – 12 million TEUs).
"Today we have an historic opportunity – to once again connect East and West with a big port in the Adriatic," added Paolo Costa.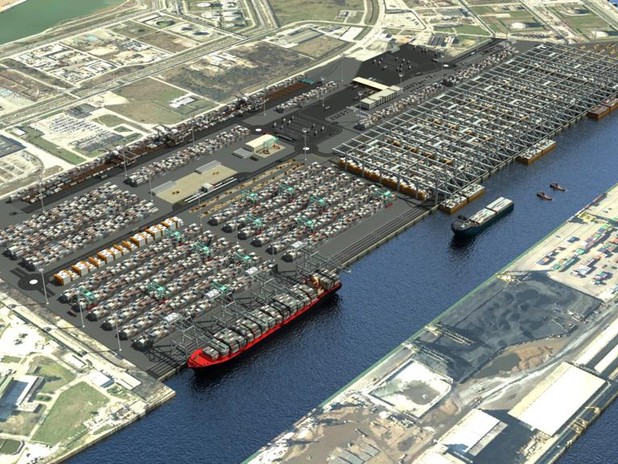 Rendering of the new container terminal: port.venice.it
He also called for work to start on dredging the Contorta Sant'Angelo – a new channel in the Venetian lagoon to allow mega cruise vessels to reach the cruise terminal in the city. He dismissed the environmentalists concerns saying:
"The lagoon has always been adapted in order to defend the principal source of Venice's power – its port.

"It is no longer a natural environment. The Venetian doges changed the course of four rivers in order to develop the port."