Ukrainian and Romanian crew have been ordered not to exit their vessel Fritz on the Maumee River in Toledo. The large bulk carrier has been sitting on one side of the river for nearly a month.
Toledo Mayor D. Michael Collins said:
"It has a Ukrainian crew, the registration is Liberian and my understanding is, there's a huge amount of money owed."
According to documents, the vessel is detained by the U.S. Marshal's Service over unpaid fees of nearly $900,000. The fate of the crew onboard is unknown. It is not clear if they have received their wages or how many supplies they have on Fritz.
"The federal government is over there, monitoring the ship to make sure…none of the crew leaves the ship, and all of a sudden, disappears," Collins added.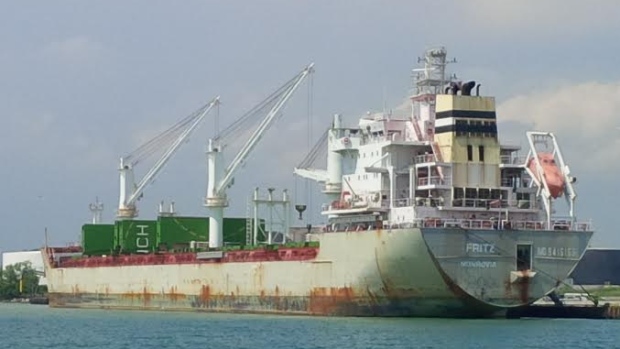 Image: CBC
The authorities fear that if the crew deserts, there will be no one to move the vessel even if the debts are paid. The vessel was supposed to unload steel coils but the cargo is still on the ship. It is not known what will be done in case the supplies on Fritz run out.
In mid-July the vessel was reported stranded in Oshawa - unpaid, with supplies running low and a technical issue. The crew made unscheduled stop to seek help. According to witnesses, the crew fished in Lake Ontario to survive. They stayed in Oshawa for two days when a new foreign investor pay the crew and get the ship moving again.
Fritz (IMO number 9415155 and MMSI 636091949) is a bulk carrier built in 2010. Manager of the vessel is Intersee Shiffahrtsges, Germany.