The prestigious award "Ship of the year" has been won by ZeroCat 120, the first battery driven car ferry in the world. The award was presented last week in Hamburg to the owners of the vessel - Norled and Fjellstrand Yard.
The propulsion system of the vessel provides the lowest possible energy consumption during fjord crossings while ensuring safe and efficient low speed maneuvering near piers.
Contributor to the innovative ferry is Rolls-Royce. Based on advanced analysis, they have developed optimized Azipull thrusters, hull design and hydrodynamics. The propulsion system has low propeller rotation rate, the propeller blades have low blade area and high aspect ratio, the thruster body is slender.
The section head for hydrodynamics of Rolls-Royce, Leif Vartdal, commented:
"An efficient propeller has a large diameter that rotates at a low speed to turn engine power into thrust in an effective way. In this case we have achieved this because the Azipull units have a high torque transmitting capacity for the given power of the propulsion motors. The hull design also allows for a larger propeller diameter than usually found in a double ended ferry. The result is better propulsion efficiency and less power drained from the batteries."
Provider of the electrical systems and the battery technology of ZeroCat 120 is Siemens.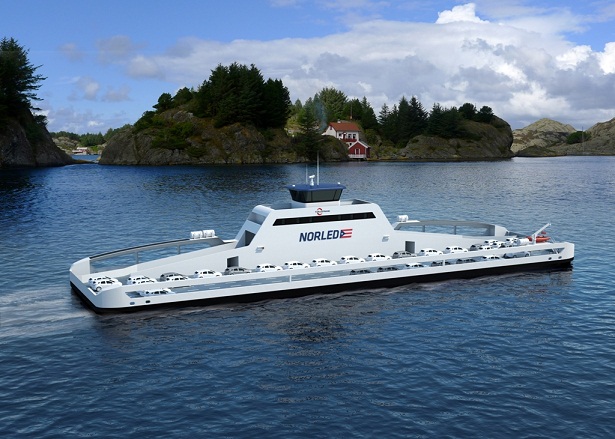 ZeroCat 120 is due to enter service next year. It has a capacity for up to 360 passengers and 120 cars. ZetoCat 120 will operate in the Norwegian West Coast.