The ro-ro passenger ferry Super Shuttle Roro 7 has sunk in the Philippines. The incident occurred on September 14 at about 8 p.m. (local time) outside the breakwater off Manila amid heavy rain, strong winds and big waves due to the Typhoon Luis.
The shuttle ferry had been docked with 15 crew members on board "taking shelter" when the typhoon battered the ship causing it to capsize. The 15-man crew managed to abandon the vessel – some used a life raft and several reached the shore swimming.
"Seven of them in a life raft were rescued by PCG personnel in the vicinity of the US Embassy compound. Seven others, holding on to floating debris, managed to swim toward the Quirino Grandstand area while the last one was rescued by the passing tugboat MT Energy Star," said Commander Armand Balilo, Philippine Coast Guard (PCG) spokesman.
Twelve were reported to have suffered minor injuries. PCG are monitoring the area for eventual oil spill. As the wreck is a potential navigation hazard, it will most likely be removed.
Super Shuttle Roro 7 (IMO number 9117727) was built in 1994. The GT 13,540-tonne vessel is owned and operated by Asian Marine Transport Inc. (Cebu City-based).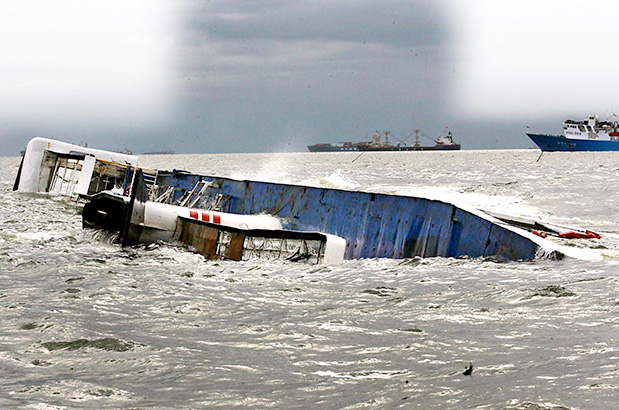 Image: philstar