Unique cement carrier vessel to be delivered to the joint venture JT cement in late 2015. The LNG powered vessel has been ordered for Erik Thun A.B. and is being built at Ferus Smit shipyard. JT cement is a joint venture between Erik Thun AB and KG Jebsen Cement. The agreement with the shipyard provides an option for a second ship.
The cargo system of the vessel is designed and delivered by KGJ cement (KG Jebsen group part) and it will feature fully automated system for loading and unloading cement. It will be based on fluidization of cement by means of compressed air. The special system will be combined with slanted tank tops in the cargo holds. Thus, the bulk cargo will flow to a central suction point in the holds and then via pipelines it will be transported onwards.
The vessel's cargo holds will be fully closed ensuring loading and unloading in all weather conditions. Furthermore, the operations will be dust free and environmentally friendly. The discharge speed of the cargo handling equipment will be up to 500 m3 per hour.
The vessel will be 109.65 m long with cargo capacity of 7,200 DWT. The engine of the carrier will be Wartsila dual fuel, it will feature 1A ice class. The cement carrier will operate year round in the Baltic.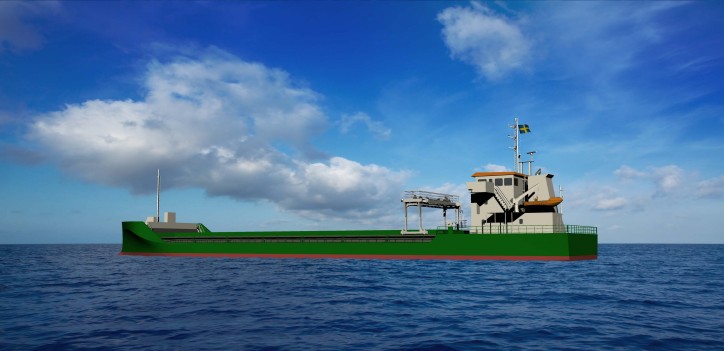 Image: ferus-smit