Incat has launched the largest Fast Crew Boat (FCB) in the world at their shipyard in Tasmania. The ceremony was held on Monday. The FCB was named Muslim Magomayev after opera and popular music singer from Azerbaijan (died in 2008).
The first DP2-class catamaran was designed by Incat Crowther, the production engineering is by Revolution Design.
Upon completing sea trials, Muslim Magomayev is due to depart to Baku. The vessel will operate for Caspian Marine Services and will provide fast crew transfers for 150 offshore workers to Caspian Sea multiple installations.
The crew is transferred by an Ampelmann walk-to-work stabilized access platform. Thus, the offshore platform is accessible through a level platform and gangway. The vessel's motion is compensated by using hydraulic cylinders with a motion compensating control system. Muslim Magomayev will hold station using DNV DYNPOS-AUTR (dynamic positioning) allowing transferring of the crew with 98.5 percent in prevalent conditions. Muslim Magomayev is the first catamaran with this kind of system.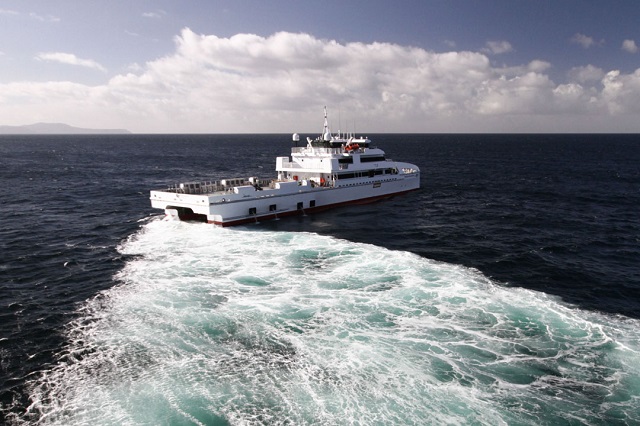 In addition to its primary service, transfer of crew, the catamaran has cargo deck of 275 m2. The length of the vessel is 70 m with beam of 17 m. The design of the hull is semi-SWATH.
Robert Clifford, Chairman of Incat, said:
"We believe this fast crew boat will generate a great deal of interest in the global oil and gas industry. It will pave the way for future orders for similar vessels as operators can take up an alternate to the very expensive option of helo transfers."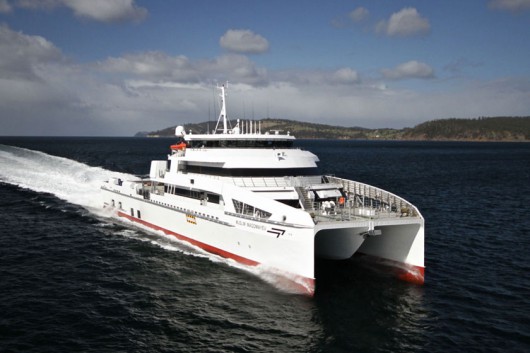 The world's largest high speed crew catamaran vessel achieved 38.7 knots lightship during her first day on the water. The crew cabins comply with ILO, there are luggage space, vending machines, a large workshop and VIP rooms on the main deck.