The captain of the sunken ferry Sewol, admitted that he had made a mistake in leaving a crew member without experience at the helm when the ferry capsized. On the litigation for the worst South Korea's ferry disaster yesterday, the captain was charged with murder.
Captain Lee Joon-seok denied allegations made by some crew members that he was playing games on his cell phone, at the time of the disaster with MV Sewol.
The ferry, with over 300 people aboard, capsized and sank on 16th of April, 2014 in East China Sea, west of South Korea. The tragic accident killed over 300 people, most school pupils.
As of now, 5 months after the disaster, prosecutors released the official standing saying that a deadly combination of illegal redesign and poor helmsmanship and cargo overloading caused the accident.
The 69-year-old master of the sunken ferry Sewol, Lee Joon-seok who was steering the passenger vessel after working on the Sewol ferry for only half an year, didn't have the required experience.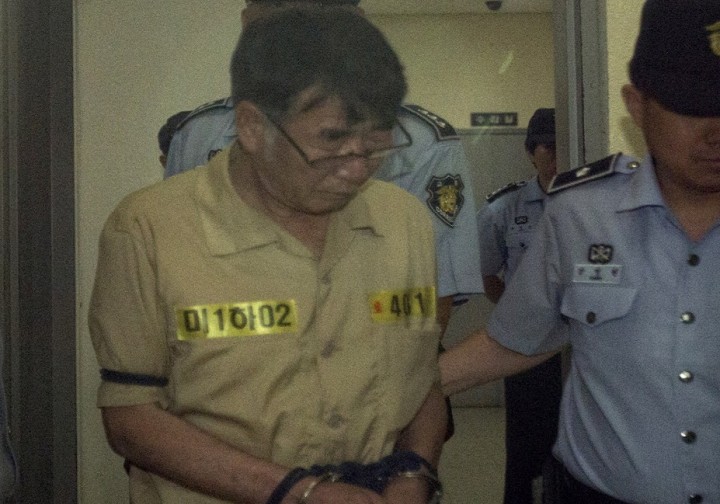 According to crew members testimonies and AIS data, the overloaded and top heavy ferry ship, following an illegal refit, made a sharp left turn in the channel, listed sharply to one side and eventually sank, causing the death of over 300 lives.
Captain Lee and 3 senior members of the crew are accused of "homicide through wilful negligence" - a charge that may carry the death penalty. Eleven other crew members are being tried on lesser violations.
On the question where he was when the ferry ran into trouble, Captain Lee said he was in his cabin "smoking and changing clothes."
The crew members and the captain were vilified for abandoning the ferry ship while all passengers and other crew members were still onboard. They were also criticised for ordering passengers to stay where they were when the vessel began listing to one side.
Captain Lee insisted in court that owners of sunken ferry Sewol are the real culprits for the disaster, as it was their decision to habitually overload the ferry ship.
Related news:
Sunken ferry Sewol Update: 171 confirmed victims, prosecutors search owner offices
Master and 3 crew members could be handed death sentence