ReCAP issued an incident update on the product oil tanker Sunrise 689 that disappeared on October 3rd, 2014.
Vietnam Maritime Security Information Centre (MSIC) and Vietnam Focal Point (known as the Vietnamese Coast Guard) alerted the Information Sharing Centre (ISC) of ReCAP on October 5th, 2014 that the owner of a Vietnam-flagged product oil tanker Sunrise 689 had lost contact with the master of the ship.
Sunrise 689 departed Singapore port at around UTC 2:00 p.m. on October 2nd, 2014 en route to Vietnam with 18 people on board, loaded with 5,226 ton of gas oil.
Last reported position of Sunrise 689.
According to report from the Vietnam Coast Guard and the Vietnam Maritime Administration (VMA), the master of Sunrise 689 contacted them on October 9th, 2014 at about UTC 10:00 a.m. The product tanker's captain informed the maritime authorities that armed people with knives and guns boarded his ship and siphoned the gas oil from Sunrise 689 to their ship. The armed men damaged the communication equipment of the tanker ship and two crew members were slightly injured.
Vietnam Coast Guard dispatched a patrol vessel to assist the tanker ship that is on her way back to Vietnam, immediately after the master contacted them.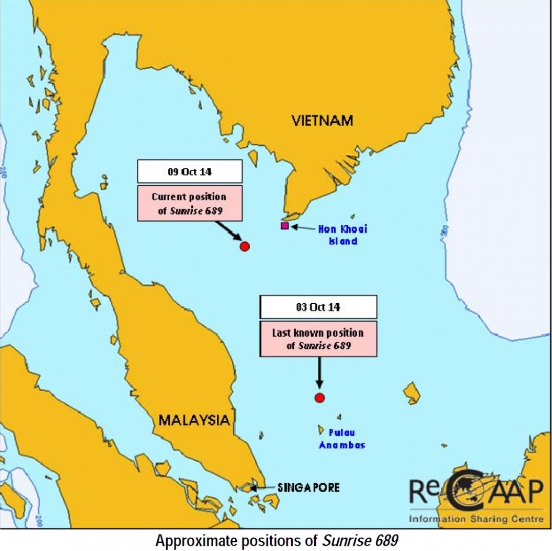 Related articles: Vietnamese product oil tanker ship Sunrise 689 disappears