Cruise vacations might seem more expensive than the typical vacations on land. Depending on the line, length, itinerary and number of guests per cabin, cruise prices range from the humble $299 to several thousand - huge costs for the budget-conscious vacationers.
However, much value is included in price and a cruise allows seeing varied call ports with no need to change hotels. The relaxation costs are incalculable, but be prepared for the not included onboard expenses - typically cruisers spend additional 50% above the cruise fare.
The included in price items vary between lines. The more luxurious the line is, the more included in fare items are offered.
Your cabin is the first in line - with a king sized bed converted into twins. Many staterooms provide space for a third passenger on a pull-down bed or a coach. Unfortunately, most cruise accommodations are relatively compact.
All transfers to and from ship (if the air tickets have been bought through the line), and travel between all call ports, are also included in cruise price. So are the scheduled meals, and dining at the main restaurants, special buffets, snack bars. Lines also include water from a pitcher, morning juices, tea and coffee (sometimes milk). Not to forget the room service.
Enjoying onboard facilities, such as limited sporting equipment, pools, whirlpools and fitness centers, will not add a dime to your account. Free of charge are the games and activities, including group competitions, trivia contests, kids' video arcades, lectures. Nightly entertainment (revue shows, musicians, comedians and jugglers), as well as the theater, library and card room, are also included.
What is included in cruise prices and what are the "cruising extras" that cost additional money? Several onboard activities are not included in cruise cost and require extra fee. Most of these are optional and the added costs can be easily moderated.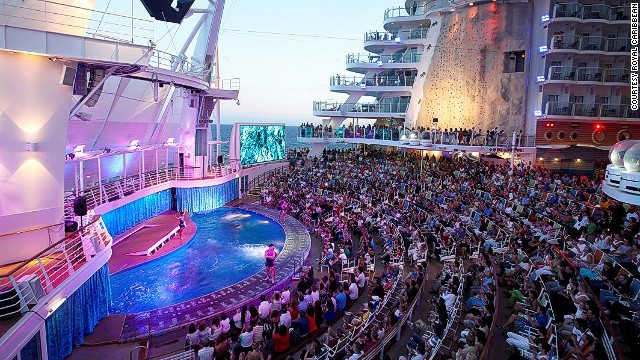 Bar drinks are among the items that require extra fee and guests have to pay extra for specialty coffees, carbonated and alcoholic beverages (around $3-10 for a drink). Wine is also available (by the glass or by the bottle). A beer or wine package is a good idea, but only if you drink enough to save.
"Specialty" or alternative dining is offered for additional charge. The modern vessels provide extraordinary meals with exotic tastes, reservations-only.
Port tours and excursions vary between $50-$150, depending on the length and the activities involved, but you can choose to tour independently by the help of free planners with maps and events.
Take advantage of the discounts offered on port days in the Spa, as the Spa and Salon treatments on board are usually far more expensive than the same services on land. Certain fitness classes cost minimal charges and yoga, spinning or Pilates go around $10 per class.

Most passenger shipping lines do not include the gratuities in the cruise fares. The 15%-tips are automatically added to passengers' accounts. Typical charges go around $10 (per person, per day).
Not all depends on luck – the Casino can be a disaster and may cause huge expenses, better avoid it. Do the same with the Internet - the connections are slow, with extremely high rates. Most lines charge about 75 cents per minute for a pay-as-you-go plan. A package will reduce the cost to around 55 cents for Internet time in a bulk. Find cheaper Internet spots in port.
Buying souvenirs from the duty-free shops? Certainly, not included. The tiny items connected with the travel and the professional photographs (always at hand) may sometimes be pricey. Shop in ports instead, and take your own pictures - a photo will cost you $5-$15.
Don't forget that some fees and taxes may not be included in price when the cruise is advertised, and the usual amount may cost up to 5%. Modern lines also charge additional $5-$10 per person, per day as fuel surcharge to cover fuel costs.
Also remember that the advertised fares are based on double occupancy and in case you want to stay alone in cabin, the full price of the stateroom has to be paid.
Along with cruise calendars (sailing schedules with dates and ports) at CruiseShipSchedule.com you can also compare cruise prices per person. Cruise rates there are based on double occupancy stateroom prices. Rates show the passenger cabins cost for all the four main cruise room categories - Inside, Oceanview, Balcony and Suite accommodations. The site's timetables relate to both ocean going and river cruise ships, and additionally show a Vesselfinder map tracking the cruise ship's current position at sea.