A major fire has broke out as a result of the collision between two container vessels in Westport, Port Klang, Malaysia.
The accident occurred yesterday at around 9:30 pm local time (11:30 UTC). The vessels involved in the collision were Al Riffa and San Felipe.
San Felipe was entering the port and hit the Al Riffa which was berthed. According to the manager of San Felipe, following the accident fire broke out in a container stack on the forward sections of both vessels.
According to video replay of the accident provided by VT Explorer, San Felipe was towed away from the site accompanied by three tugboats.
Video replay of the collison between Al Riffa and San Felipe in Port Klang
Luckily, the fire was quickly extinguished and there were no reports of injuries. The South Channel was closed temporary following the accident by Port Klang Authority (PKA). The cause of the allison and the damage extend are yet to be defined.
San Felipe (IMO number 9698628 and MMSI 538005732) was built in 2014. The 113,000-DWT vessel has a 8,700-TEU capacity. Manager of the Marshal Island-flagged vessel is Bernhard Schulte Ship Management.
Al Riffa (IMO number 9525912 and MMSI 229005000) was built in 2012 and is registered in Malta. The 13,100-TEU container ship has a deadweight of 145,534 DWT. Manager of Al Riffa is United Arab Shipping Co (Kuwait).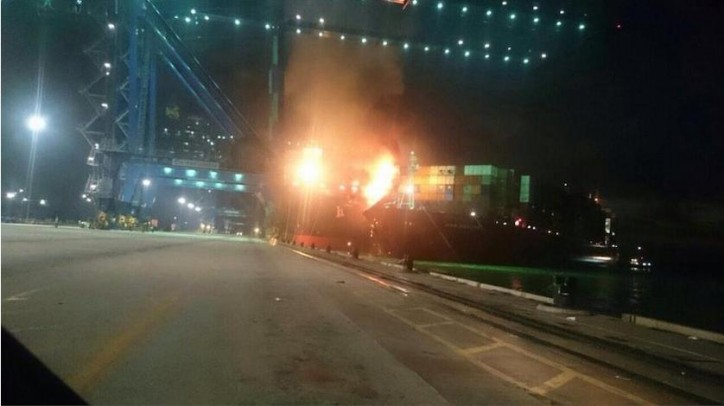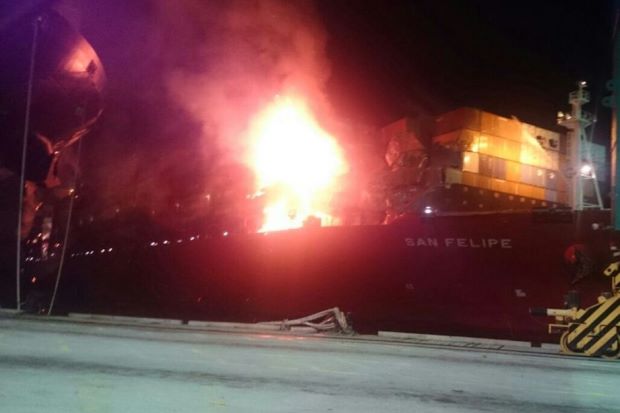 Image: Selangor Fire and Rescue Department's official Twitter feed