United European Car Carriers (UECC) has inked a contract for the building of the world's first LNG-powered vehicle carriers.
The two new vessels will be powered by a single MAN B&W 8S50ME-GI dual-fuel engine and will be constructed at the NACKS shipyard in Nantong, China. The shipyard is a joint venture between China Ocean Shipping (Group) Company and Kawasaki Heavy Industries (KHI). The new-buildings are scheduled for delivery in the second half of 2016.
The order of UECC came after a a long-term fleet evaluation process concerning its Baltic fleet. The CEO of UECC, Glenn Edvardsen, previously commented: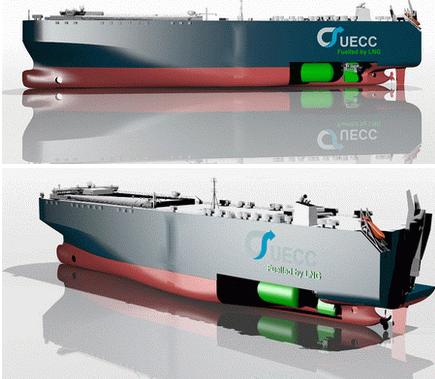 "The LNG installation is a pioneering design and will be one of the largest employed on a commercial vessel and the largest yet of its kind on a pure car and truck carrier. We are proud of the exciting step UECC is taking towards greener and more environmentally friendly shipping."
The vessels will be capable of completing a fortnight round trip in the Baltic operating only on LNG ( including main engine and auxiliary power generation).
According to Glenn Edvardsen, the new-buildings will provide the customers of the company with transportation with superior environmental performance, unparalleled efficiency and reliability. The key requirements for new tonnage reckon all expected environmental legislation (SECA).
Source: UECC