Rescue operation for four missing sailors is ongoing as the Torpedo Recovery Vessel (TRV) A-72 sank off the east coast of India. The incident occurred yesterday at 8 pm local time some 30 nm south off Visakhapatnam and resulted in at least one victim.
The TRV A-72 was on a routine torpedo recovery exercise with 28 mariners on board, 23 of them were rescued by nearby warship of the Eastern Naval Command.
An officer said:
"Water suddenly flooded one of her compartments, which finally led to the sinking of the TRV."
According to reports, the warship was on her route back to Visakhapatnam when she started to take in water through the steering gear compartment.
"The vessel was on a routine mission to recover torpedoes fired by fleet ships during a routine exercise, when it experienced flooding in one of its compartments," the Navy said
The 110-tonne TRV A-72 belonged to the Astravahini-class of auxiliary vessels. The mission of the class is to recover practice torpedoes fired by battleships to ensure their re-usage. She was built by the Goa Shipyard and was commissioned in February 1983.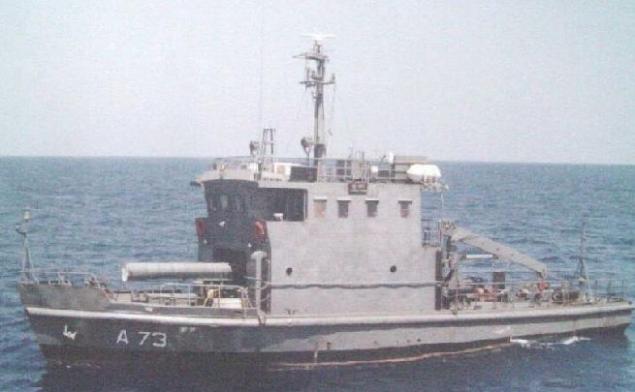 Image of an Astravahini-class vessel : Indian Navy
The sinking of A-72 comes soon after another Indian Navy vessel was involved in a serious incident. Last Friday, the missile corvette INS Kora collided with a huge container vessel around 300 nm off Visakhapatnam.