Vale SA has inaugurated a new port terminal in Malaysia. The official opening ceremony of the new $1.37b facility took place on November 7.
The main aim of the world's biggest iron ore producer is to cut costs of exporting ore to Asia. According to analysts, Malaysia is fairly important to Vale's strategy and the new facility should enable the mining giant to save $3 - $5 a tonne on costs.
The new facility, known as Teluk Rubiah Maritime Terminal, comprises a 2.2-kilometre deep-water jetty and a port warehouse where different types of iron ore products can be blended. The terminal is able to receive and export 30 million tonnes of iron ore a year.
According to a press statement by Vale, eight Valemaxes have already been unloaded and five Capesizes have been loaded at Teluk Rubiah by October.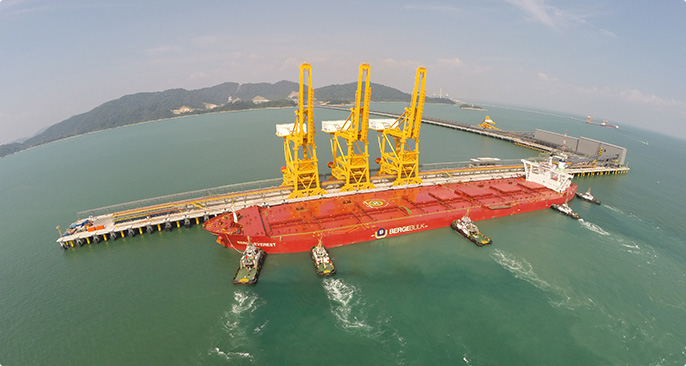 Berge Everest - The first Valemax to unload in Malaysia. Image: Vale
Murilo Ferreira, CEO of Vale, explained that the centre brings the mines of the company closer to the Asian customers.
"Teluk Rubiah is a cornerstone of Vale's business strategy of investing in solutions, which aim to enhance the company's capability to supply iron ore more efficiently to the Asian markets," he added.
The location of the new facility will reduce the waiting time for the Asian clients by some 25 days thus accelerating the sales process. Furthermore, the Teluk Rubiah is expected to generate about 600 direct and 1,200 indirect jobs in the region.